Posted by Veronika Jelenik on October 26 2021 1:16pm
Before I can discuss any details about the actual wine being featured here, I have to talk about the story behind it, because it fascinates me. It's weird and random and absurd and the fact that this wine was ever even created let alone made its way into my mouth is, well, fascinating.
Have you ever heard of the Fellowship of Friends? Well, I hadn't, and I guess it might be because I'm on the younger side and wasn't around when everyone and their mother was joining a cult in California, when Charles Manson and Jim Jones and the like were enjoying their 15 minutes. Except this cult decided to forgo the mass murdering and get into winemaking.
Robert Earl Burton was the Fellowship's charismatic leader, the members of which followed the "Fourth Way," a method of achieving ultimate consciousness and spiritual awakening. Enticing as it sounds, it was, in most respects, a doomsday cult. Burton's predictions included an economic collapse in the 80s and the falling of California into the Pacific Ocean in the 90s. On the other hand, though, the cult was dedicated to the study of art, which is what led Burton to purchase the property that later became a vineyard in the first place.
The Fellowship started Renaissance vineyard in Northern California, specifically Oregon House, a town in North Yuba County just an hour and a half northeast of Sacramento. Located in the Sierra Foothills, the secluded vineyard is obscure to say the least. It's steeply sloped, mountainous, and rocky. The land is wild and untamed. Livestock, deer, rabbits, mountain lions, bears, coyotes, rattlesnakes and more freely roam the terrain. It turned out that nobody in the Fellowship, including Burton, knew how to make wine, but a young UC student/cult member took an interest and enlisted the help of a German winemaker/cult recruit (funny enough, the two ended up getting hitched).
In 1976, they planted their first vines. To put it into perspective, Napa Valley was California's first designated winemaking region, and it wasn't official until 1981. In '85, the Fellowship established North Yuba as an official AVA, and Renaissance was the only vineyard in the place. So, these guys were ahead of the game; you can, in part, thank this cult for the wonder that is California wine.
In '78, an ex-Israeli soldier and twenty-something named Gideon Beinstock was seeking…something…so he joined a cult, naturally. In '93, 15 years after joining the Fellowship, he became head winemaker at Renaissance.
You're probably wondering about the wine at this point. I'm getting to it! In the '90s, under Beinstock, Renaissance wines were some of the best in California. Seriously.
Flash-forward to 2015. Like Beinstock, Aaron and Cara Mockrish, a couple who met on a trip to Jamaica, were looking for something different. Aaron wanted to move to California to get into the cannabis industry and start growing his own weed. Cara was a disheartened public-school teacher in D.C. One day, at a friend's house in El Cerrito, they tried a wine called "Black Pearl," produced by Clos Saron, the side hustle Beinstock was cheating on Renaissance with before he up and left the Fellowship altogether. So, like any rational individuals would do, they cold-called Beinstock and asked to be his winemaking apprentices.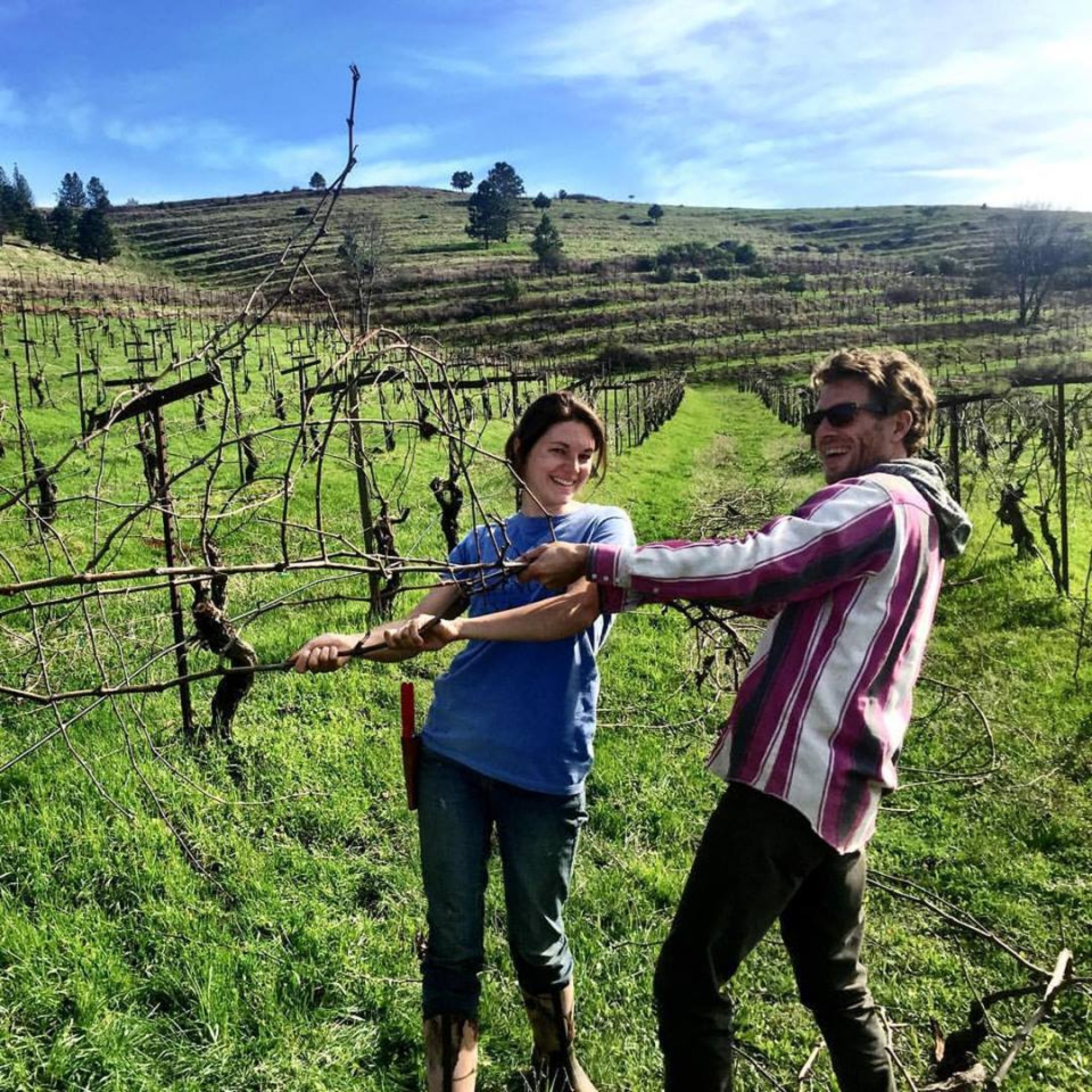 Aaron and Cara Mockrish at Frenchtown Farms, their vineyard in Oregon House, California.
Since Beinstock was no longer a Fellowship member, and since membership in general had dropped dramatically since none of Burton's predictions came true and cults were going out of fashion, the Fellowship announced they were ceasing wine production at Renaissance. So, Beinstock asked if the Mockrishes wanted to lease the land from the Fellowship and grow the vines themselves. In a leap of faith, they said yes.
And that's how Frenchtown Farms was born.
That's how this glass of 2017 Nineteen Harts Syrah made its way into my hand.
The couple, a crunchy NoCal duo who hike 450 vertical feet of forest to their vines every day, make their wines with organic and biodynamic practices, but do not seek official certification, because bureaucracy is lame. Their wines are spontaneously fermented, foot-stomped, and mostly unsulfured. They do not add to, subtract from, or correct them. Their staff include dogs, sheep, chickens, and cats. The only rules they follow are those of nature. In their own words, "Our farming is influenced by our own observations and hard lessons throughout each season."
Nineteen Harts is their 2017 Syrah with just a touch of Roussanne, a white grape varietal added to round out Syrah's sharp edges. This wine is symbolic in so many ways; it's label depicts a hart (male red deer) seated on a mountaintop wearing a cross-body robe. There's a Merkabah—kind of a 3D Star of David—hovering above his outstretched palm, a "divine light vehicle" meant to connect us with the spiritual realm. In the swirling violet sky, there is a Virgo constellation, which I believe symbolizes the grape-harvesting season, which is mostly in September. "Nineteen" refers to the slope on which the grapes were planted, Slope 19, the highest one on the vineyard. Lastly, the various shades of violet that make up this image represent…something.
This wine smelled like someone was baking a blackberry pie in a farmhouse kitchen. It's dark violet, almost burgundy, in the glass. It has a barnyard essence that actually enhances the wine. It tastes like cherries at first, but in my mouth its mostly blackberry, ripe raspberry, and maybe even fig or plum. It's medium-plus bodied and dry with strong tannins, medium acidity, and a funky aftertaste. It's not as "big" as a lot of Syrah I've tried, but it is expressive. Alive. It has a personality. It's brambly and wild and nothing I would expect from a Virgo, honestly.
Aged in French oak, it has hints of vanilla, clove, and baking spice, as well as some wet earth notes. This wine is tannic, yet drinkable. It's definitely a hippy granola we-like-to-hike-and-farm type of wine. But all in all, it's yummy.
So, if I haven't bored or scared you, I implore you to get your hands on this crazy wine. You won't be disappointed.