Posted by Veronika Jelenik on October 11 2021 1:21pm
My friend has an abstract painting in her bedroom called "Peach Ice Cream." It's immediately what I thought of when I poured and tasted this wine. In a squat glass I found in a box marked "free" on the curb of my East 11th St. block (I can thank NYC moving day for most of my kitchenware), the color was a mix of yellow peach skin and burnt orange Crayola crayons. Against the white wall of my living room, it was almost identical to amber, like there should have been a scorpion preserved inside it.
When I stuck my nose in the glass it was late-Autumn peach farm mixed with orange creamsicles. (The color and aroma were surprisingly corresponding.) The beginning of the first sip was creamy, like the smell, but was immediately followed by bright, tart citrus. The finish was dry. It wasn't quite bitter, but the taste on the back of my throat contrasted significantly with that on the front of my tongue, like I washed down a bite of fro-yo with a sip of orange juice—but in a good way?
I'm new to orange wines. At first, they freaked me out. Like most newbies, I haven't quite acquired the taste for "funk" (which, to me, translates roughly to musty barnyard). This wine, though, was a prime example of a sophisticated orange. The flavors were familiar and refined. Made from 100% Pinot Gris (aka Pinot Grigio), it was nothing like the liter Barefoot bottles I bought at the local liquor store with my fake ID when I was 16. This was Pinot Grigio wearing Dior. It had 15 days of skin contact before aging in French oak, giving it that "creamy" essence, but with a tannic contrast. At 13.5% ABV, it definitely gets the job done, but in a classy way.
I drank this wine chilled with some roasted sweet potatoes seasoned with salt, pepper, cayenne, and cinnamon, pan-seared chicken breast, and broccoli tossed in olive oil with simple salt and pepper. It was a clean and refreshing accompaniment to my dinner, but I found myself appreciating it on its own when I finished eating. This is definitely the type of wine you can catch up with a friend over and get accidentally drunk even though you said you had errands to run and chores to do. In fact, my roommate just returned back to the city after staying with her boyfriend in Dubai for two months, and that's exactly what we did before passing out on the couch while watching Sex and the City.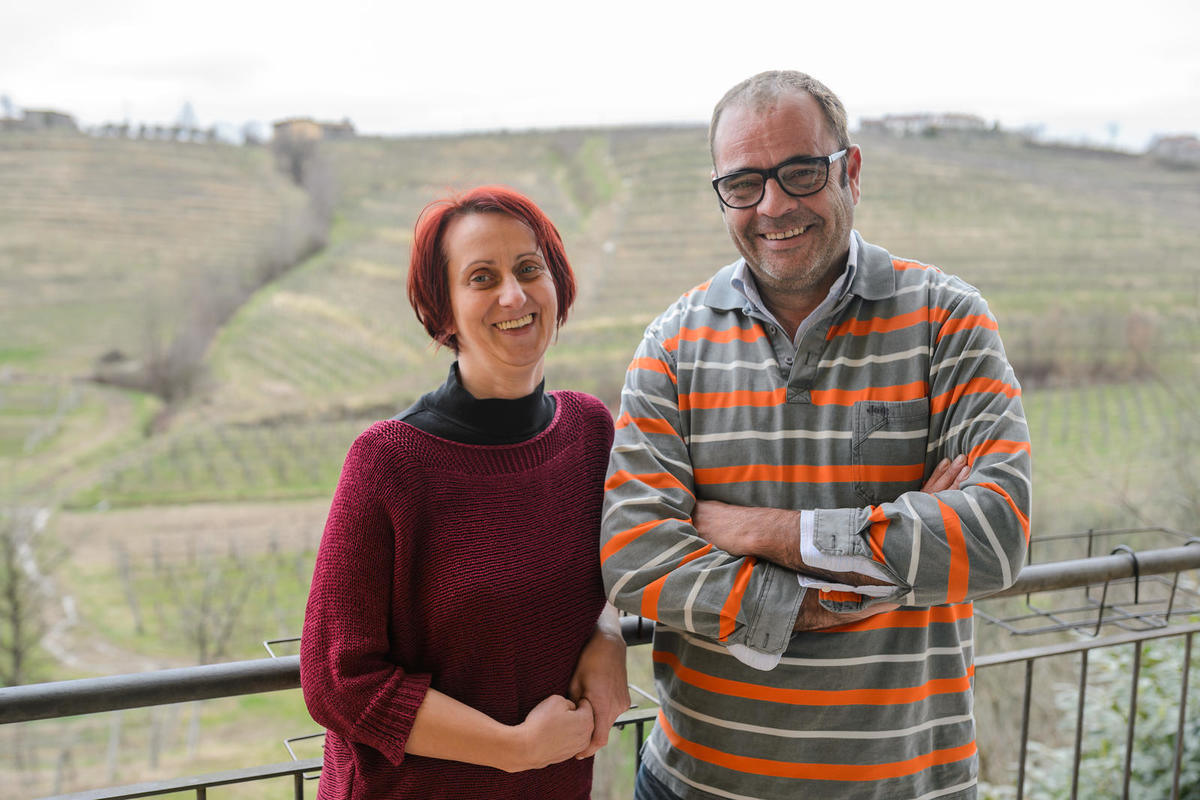 Jean-Michel Morel, the owner of Kabaj winery, with his wife, Katja Kabaj. Kabaj is located in Goriška Brda, a vine-growing region in western Slovenia near the Italian border. The region was one of the first in Slovenia to gain international acclaim for its wines. (Photo by Jure Makovec)
Kabaj (pronounced Ka-Bye), a Slovenian producer that uses low-intervention farming and winemaking methods, is the creator of this wine. Perhaps it's because I am Eastern European myself (Hungarian) but I've been obsessed with wines from this region lately. Hungarian, Slovak, and Slovenian wines are all on my radar, which is a truly incredible development given my steadfast commitment to only Italian reds and PNW pinot noirs in the past. This is a producer I'll definitely be returning to.
Perfect for late summer-early autumn sipping. Enjoy it on your rooftop before it gets dark and freezing and you need to rely on your SAD lamp.