Posted by Veronika Jelenik on November 30 2021 7:03pm
In journalism school, I learned that one of the cardinal rules of storytelling is to never start a story with a quotation by someone else. But I'm going to break that rule and quote a random Vivino user (by the name of Phil Clarke) because it aptly summarizes my experience with this wine:
"Wow. What the fuck was that?!?!?!?"
Every week, I humbly encounter one of my most debilitating weaknesses—indecisiveness—when choosing a wine to write about. I always contemplate reviewing this wine but don't for one reason or another, despite my coworkers suggesting that I'd love it. After browsing the shop for 30-plus minutes, I said f*ck it, I'm just going with the Mladý. Which, despite having nothing to do with it, makes me think of that medieval m'lady/m'lord thing, which also reminds me of "Community"/Alison Brie. But I digress.
Actually, mladý means "small" in Czech, and Boček is the name of the plots that the producer, Richard Stávek, planted in 2012. So, these are like, baby vines (hence the name). The two varietals—Rubinet and Sevar—are indigenous to the Czech Republic, and he decided to blend them on an experimental whim.
In the glass, the wine is opaque violet with blue undertones. It's a really gorgeous color. The nose was crazy. I smelled it a million times trying to figure out the aroma. I concluded it smelled like a sour beer. Specifically, Brooklyn MegaPurple by Brooklyn Brewery. I guess that could be qualified as "yeastiness." It gave off wild raspberries and blackberries, like the ones that grew in weedy bushes on the streets of my suburban Connecticut hometown where I used to walk miles and miles with my neighbor, Megan, and our dogs on muggy summer days. It also smelled like—and this is a new term to me—cassis: a liqueur made from blackcurrants. The other note I got was blueberry, or blueberry kombucha. That's the yeastiness again, I presume.
Much like sour beers and kombucha, the overall essence of this medium-plus-bodied wine was acidic. Tart and juicy and mouth-watering, drinking it was like chewing on a sour cherry candy. While black fruits dominated the nose, red fruits took over the palate, with secondary flavors of wild herbs and wet earth. Fruit-forward yet complex, it was a tad funky, but not overwhelmingly so. It was low in tannins, but the acidity made up for it, making me pucker when I swallowed a sip. The finish was lingering, with a subtly smoky, dusty, minerally aftertaste.
This wine is truly natural: It's made from organically farmed grapes, which are low-yield and hand-picked; it's also unfined, unfiltered, and contains no added sulfites. Plus, it's fermented naturally with native yeasts.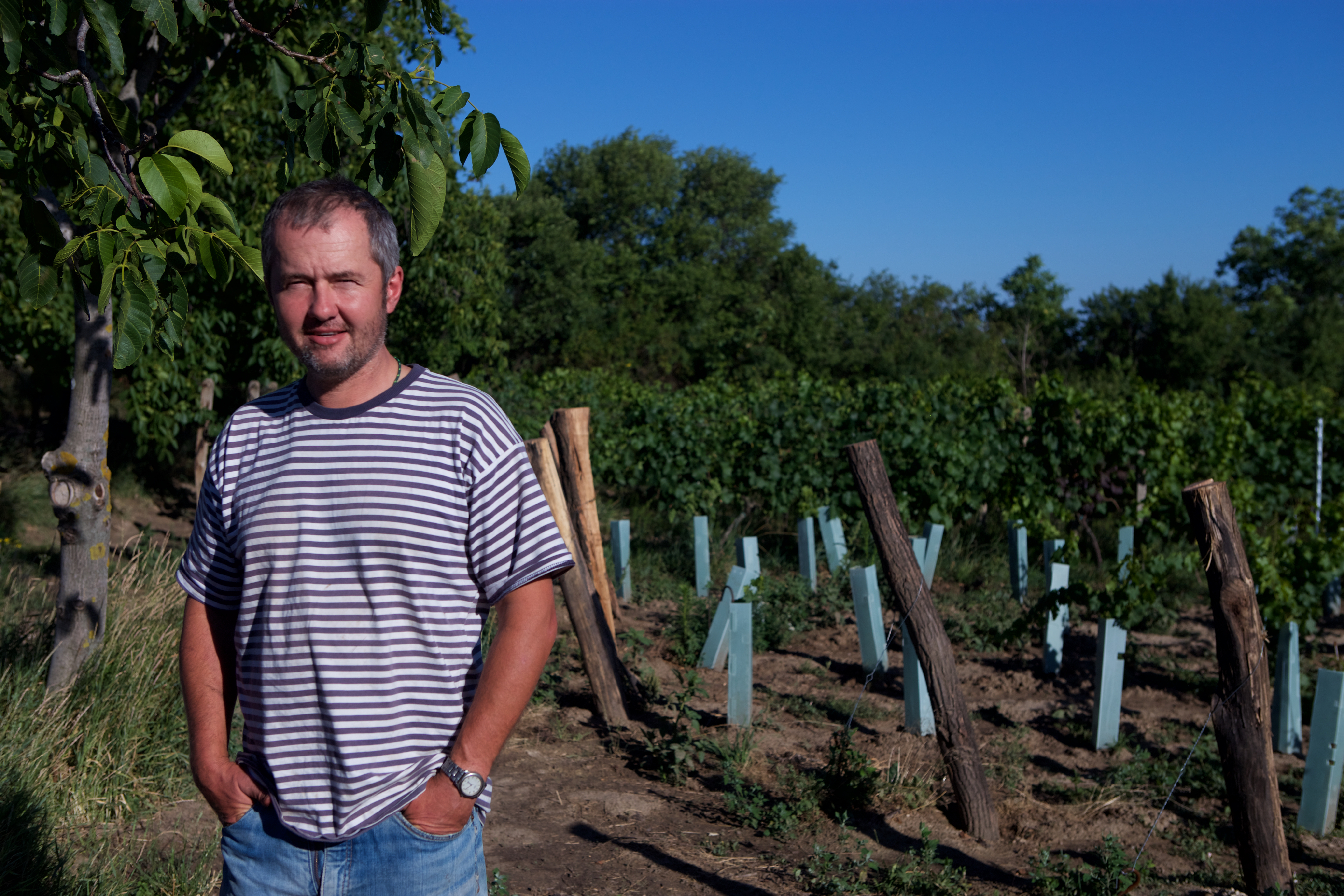 Winemaker Richard Stávek at his vineyard in Moravia, Czech Republic.
Richard Stávek, the winemaker, is a natural wine pioneer in Moravia, a region in Czech Republic. He's also the co-founder of Autentisté, a group of natural winemakers in the Czech Republic who make low-intervention, terroir-driven wines rooted in Central European tradition. Stávek started making wine in the mid-90s, working mostly with little-known indigenous grapes and creating field blend wines. The vines used for this wine are his youngest, and the production was mostly an experiment; he wanted to see what would happen if he fermented these two random varietals together. The result was one of the most interesting wines I've ever tasted.
This wine is tart, fresh, juicy, wild, and drinkable. I wouldn't taint it by pairing it with food, honestly. I would also put a chill on it. It's fun and upbeat and a great conversation-starter. Share only with deserving individuals.