Posted by Veronika Jelenik on December 14 2021 3:50pm
I'll be honest: I knew nothing about the producer, Iole Rabasco, when I chose this wine, barring her name. I didn't realize she was a badass woman making organic and biodynamic wines in Abruzzo that transcend classification—is it a red? A rosato? A rosé? But, after scanning all the wines we received from Rabasco, I chose this one because it was special & different, and I'm a sucker for idiosyncrasy, and because its name means "Cancelled" in Italian, and I just found that amusing.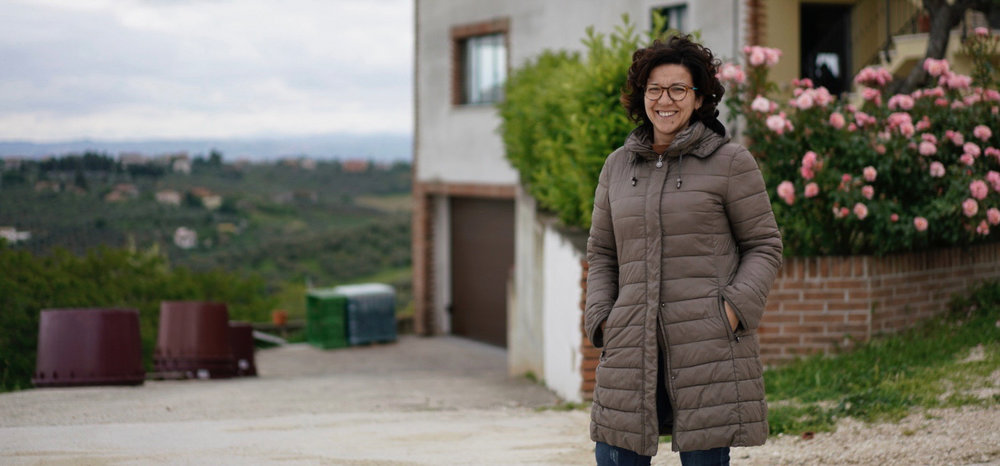 Winemaker Iole Rabasco of Vini Rabasco, located in the village of Pianella in the province of Pescara at the heart of Abruzzo, Italy.
Cancell…ato is around 20 percent of the 2019 "Cancelli Rosso" wine blended with the fresh, free-run juice of the 2020 vintage. It's not one of the wines Rabasco produces annually; this cuvée can never be recreated, which is why I dig it. Cancelli, I learned, is actually the name of the vineyard where Rabasco grows solely Montepulciano grapes. I enjoyed the play on words almost as much as the wine.
I have always loved Montepulciano d'Abruzzo. I think it's the best table wine for Italian food. It's not as intense as Chianti but it's still structured enough to pair with heavy dishes while remaining dangerously drinkable. But this Montepulciano was something different. It's a red, but not in the typical sense; it was a totally new-to-me expression of the grape.
The color was a gorgeous magenta—while I was pouring it. In the glass, it was ruby red, opaque when I held it up to my white wall, but rather translucent when I looked directly into the glass (I could see my hand under it). It's almost like a really dark rosato, or a really light red, but it jumps back and forth over the line.
The nose wasn't overly intense. The most prominent notes were wild red cherry, strawberry fruit leather (like the healthy version of a fruit roll-up—you know the one), and vanilla extract. It was decidedly fruity, but when I gave it a swirl, I got an ever-so-subtle hint of funkiness.
The palate was a crescendo. On the tip of my tongue, it was like fruit juice—strawberry, raspberry, cherry—but on the back, the wine suddenly exposed its structure and complexity. The finish was long and dry, with chewy tannins and a well-balanced acidity that left a little tingle. While light-bodied and smooth, it was anything but flat. In the words of my coworker Sarah, "It starts off piano and ends up mezzo-forte."
This is the type of wine I could see myself ordering in an Italian restaurant and being shocked at how delicious it was. It could pair well with a range of dishes, in my opinion; it's light body and color is deceiving, as it does have a great structure that I feel could hold up to food. What I liked most about it is that it wasn't as "big" as so much of the Montepulciano I've tried; it was fresher and more acidic. It was like a bold and serious Montepulciano's spunky younger cousin.
Iole, Rabasco's winemaking queen, inherited the vineyard from her family, where she grows mainly Montepulciano with a few rows of Trebbiano, as well as olives. (Rabasco also produces olive oil!). All their wines have no or very little added sulfur, are spontaneously fermented, and are unfined and unfiltered. They farm without the use of chemicals or pesticides and follow the astronomical calendar when working on the vines and in the cellar.
Honest and authentic, Rabasco's wines are like nothing I've had before. They redefine "Italian red" for me in the best possible way.