Posted by Connor Kennedy on September 19 2022 6:12pm
It can't be denied - I love fruity wines. Complex, fruit-forward wines, whether conveyed by ripe, rich tannins or a vibrantly delicate structure, can please like little else. But sometimes the moment calls for something different. Certain wines have a tamer fruit profile, showcasing a potent lip-smacking savoriness. It can take different forms: some wines possess a quality reminiscent of mushrooms or a forest-floor, while others have aspects of black pepper or saffron or any variety of spice. Others still have a set of flavors that can best be described as salty. So it was for the wine I had this week, Corta Y Raspa's Mahina. This 2018 vintage, made purely from the Palomino Fino varietal, was salty all the way through, though in a way that accentuated the wine's elegant balance. In these last few days of summer, this wine deserves a spot on any table, whether picnic, patio, or dinner.
Corta Y Raspa is a brand of wines started by Mayetería Sanlanqueña, a band of "mayetos", or small-scale winegrowers, Like many from the southern Spanish region of Andalucía, these growers have long sold their grapes to larger wineries and cooperatives. By organizing into a Mayetería, they've pooled their resources and aided one another in expanding the reach of their raw, homegrown wines. Driving them are shared principles like commitments to organic farming and the preservation of old vines. All wines are spontaneously fermented in old sherry casks and are bottled unfined and unfiltered in the local en rama style.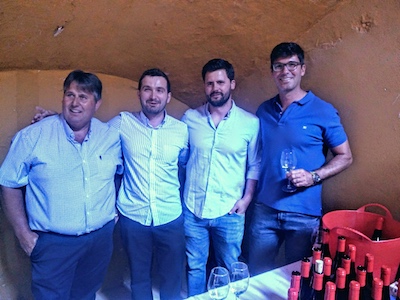 The four mayetos making up Mayetería Sanlanqueña. Antonio Bernal is on the far left. Source: spanishwinelover.com
Mayetería Sanlanqueña's various vineyards sit on the high mountain slopes outside Sanlúcar de Barrameda, a coastal city known for its manzanillas style of sherry. The mayetos do not make sherry, but they produce wine from one of its principal varietals, Palomino Fino. The "Mahina", crafted by Antonio Bernal Ortega, comes from 30+ year old vines of this grape. A small amount of flor develops during the vinification, which is a distinctive yeast indigenous to the region that can lend briny and nutty qualities to wines. It is a staple in the production of the fortified sherries, but can elevate non-fortified white wines when treated with finesse.
The aromas of "Mohina" trailed the cork right out of the bottle; upon opening, I quickly scented lemon-rind and a striking minerality. The palate was deeply savory, with even its citrus-rind element attributing to the wine's general "foodiness" while showing its well-integrated acidity. The rest of the palate, of course, was salty. It was in such a way, I admit, that it was hard to put down the glass. Perhaps that same saline quality is what I took for minerality on the nose?
This wine made me hungry. I took it to a party, and while drinking it ate far more than my fair share of the salted chips on the table. At times, I like to call wine food, despite the occasional eye-roll of a friend. Wine is not a mere complement to a meal, but a vital constituent of it, caloric intake and all. And there's something unique to savory wines that remind us of the communion between wine and food. Whether chips or caviar, find some snacks for this one.