Posted by Connor Kennedy on August 01 2022 6:19pm
Sometimes accidents happen. Whether I write my blog a few days late, or if a wine is mislabeled at some point during the production process, honest mistakes happen. But accidents don't have to be all that bad - sometimes they end up making something work out for the better. Such a happy accident occurred this week when I opened a bottle of wine from Serbian winemaker Ernő Sagmeister. I was expecting a bottle of his 2017 Furmint, a delicious bready white I've enjoyed before, but was surprised to find a wine altogether different. So different, in fact, that it was red. I brought it upstate to pair with a meal, so was stunned as I started to pour it into a glass. It was in a dark bottle, so I hadn't noticed the barely perceptible glints of red that I carried with me. Though it was no surprise the wine was positively pleasing, I was thrilled by how it struck a perfect balance with dinner. Though its contents remain a mystery, I still can only marvel at the serendipity of it all. This is a wine that's gonna stick with me for a while.
There's not a whole lot of information I could find about Sagmeister's wines. A cursory online search suggests the vineyards are in the northern province of Vojvodina, particularly between the tiny villages of Irig and Neradin, according to an article on winesofa.eu. It turns out that the ultimate source of the wine, the vines, lie near the mountain range of Fruška Gora, which sits alongside the Danube river in the subregion of Srem. Like much of Europe, there's a rich tradition of winemaking in this region, and Serbia more broadly, that dates back thousands of years. Native varietals, such as the red grape Prokupac or the white Smederevka, constitute a significant percentage of modern production, which is the highest of all the former Yugoslav states. More familiar grapes have also found a home in Serbia, such as Cabernet Sauvignon, Pinot Noir, Chardonnay, and Riesling. In Vojvodina, where Sagmeister makes his wines, there's also an ongoing influence from Hungary; Furmint, a vital grape for both dry and sweet Tokaji wines, can be found growing across the region, as can the red grape Kadarka. Despite this, Serbia is managing to strike out an identity of its own, at least with the relatively few wines I've been exposed to. Take Sagmeister's delicious Furmint for example, which has been wildly distinct from any wine I've had from Tokaj.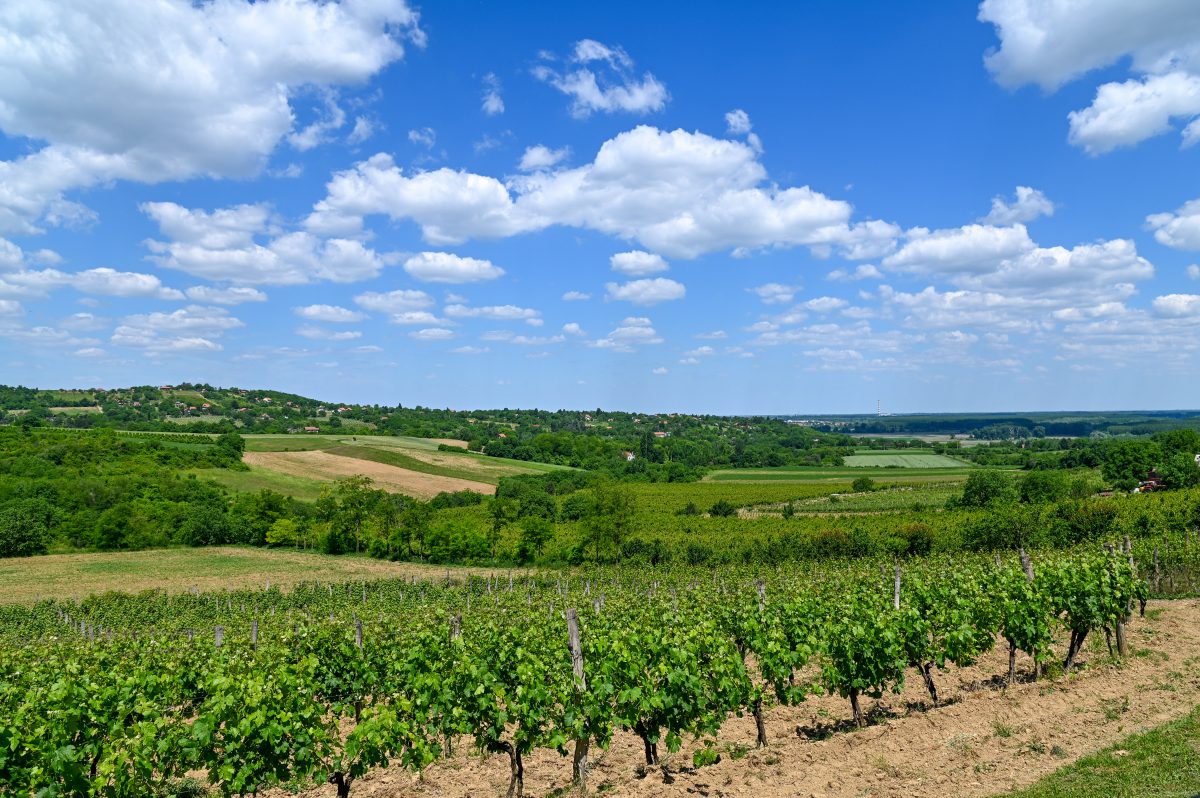 Vineyards near Fruška Gora. Source: www.diplomacyandcommerce.rs
Of course, this was the wine I was preparing to drink with some friends this week, at least before the wine gods intervened. A friend was cooking bass over a crunchy, parmesan polenta, topped with a creamy thyme mushroom sauce. I had already been sipping and sharing a Slovenian Jakot, which I also thought would suit the meal well, when I pulled Sagmeister's wine out of the fridge and popped the cork. Right away, the pale garnet wine carried subtle aromatics of red fruit and savory herbs and spices. The palate had a vibrant and refreshing acidity, complemented by the cooler temperature in which I was storing it. The wine was light on its feet - dusty tannins undergirded bright expressions of pomegranate and raspberry, balanced by a mossy stoniness that exuded the wine's tremendous, brambly depth. It was properly delicious with the bass: light enough to not overpower the fish and with the right flavors to match.
So what was the wine? Part of me wishes I could say - my gut told me it was Cabernet Franc, which I subsequently found out Sagmeister produces amid my research. But he also vinifies Pinot Noir and Kadarka, the grape with presumed origins in Hungary. I've had stranger Pinot Noirs, and have never had a mono-varietal Kadarka, so I can't rule out either. Perhaps it's better as a mystery - this anonymous wine found its way from a far-off land, just to land on the right night at the right dinner table. Who would I be to question it?