Posted by Connor Kennedy on August 15 2022 6:52pm
As I like to say, funk is a spectrum. Where you lie depends on both the sort of wines you've drunk before and your own personal taste. Some seek to stretch their limits, partaking in an endless search for wilder and wilder bottles. Others, perhaps someone who is new to amber wine, might call anything with its distinctive texture or tannic structure "funky". I firmly believe that no one is objectively right or wrong in these situations, but that these terms are relative and contingent on the individual. I've had enough wines that taste like dill, for example, that I'm starting to think it's quite normal. But I happen to know my grandmother doesn't think so. My palate was tested this week when I drank 2Naturkinder's 2018 Landwein Weinschwärmer, a blend of Grauburgunder and Riesling. This wine had rip-roaring acidity, which only turned wildly once it sat open. There's no doubt this is a living wine, in more ways than one.
2Naturkinder is a project created by both Melanie Drese and Michael Völker, who inherited a family winery that dates back to 1843. It resides in the northern part of Bavaria along the Main river in the southeastern part of Germany. Like many others, Melanie and Michal got exposed to unique natural wines while traveling to major international cities early in their careers. They fell in love, and knew they were going to have to shift from the conventional wine that Michael's parent's winery was known for producing. Since 2012 they've switched their vineyards to organic farming, and now follow the zero-zero philosophy, leaving their wines unfined and unfiltered and without added sulfites for all but one of their cuvees. They've got a deep respect for all elements of the micro and macro-ecosystem with both their winery and vineyards, with much of it being paid homage on the labels of their bottles. The 2018 Weinschwärmer, for example, features the Weinschwärmer moth, otherwise known as the elephant hawk moth. It certainly did not elude Malnie or Michael that the stunningly colored moth carries the German word for wine in its name.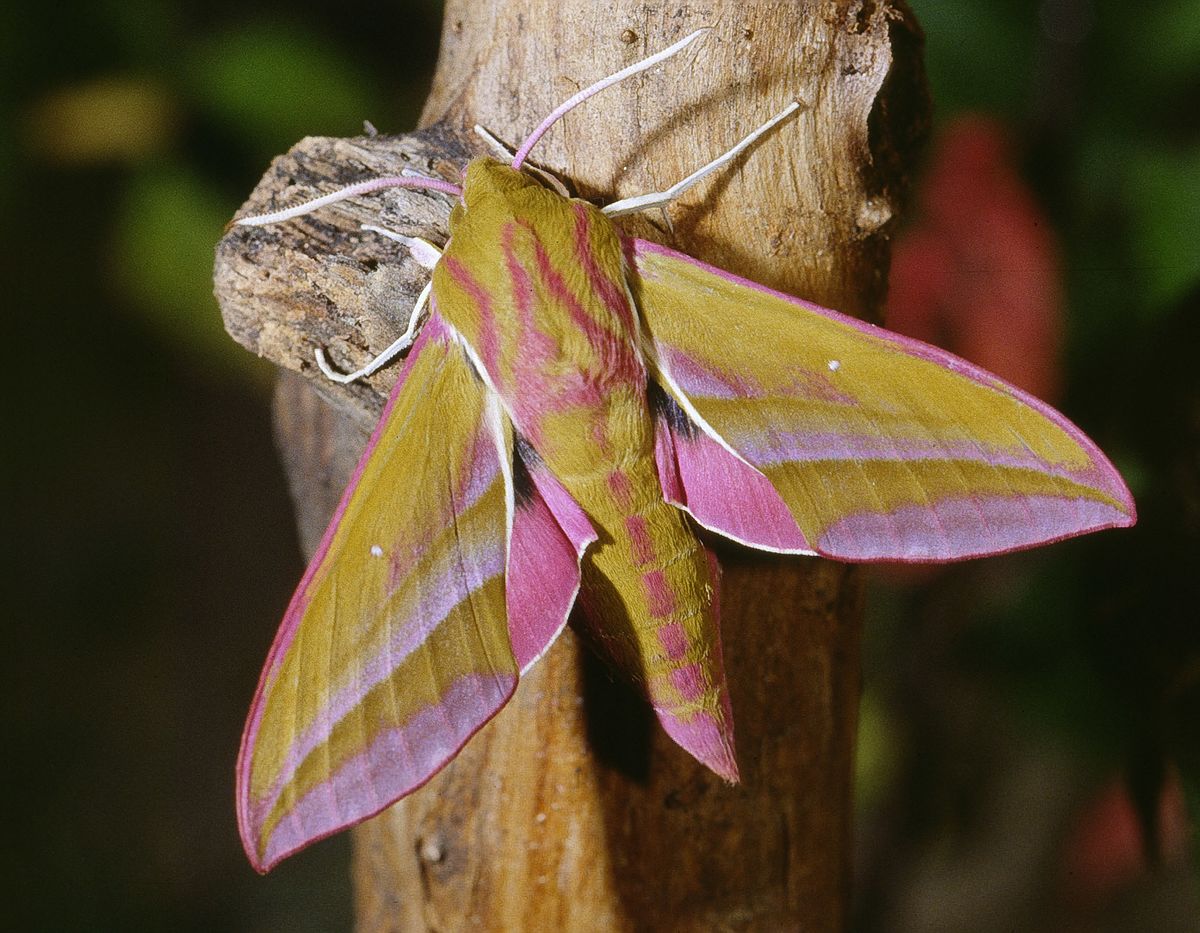 A weinschwärmer moth, or elephant hawk moth, which are common across Central Europe. Source: wikipedia.org
Every wine changes once it's exposed to oxygen. Certain natural wines, however, can be particularly dynamic, evolving in unpredictable directions even just an hour after opening. Such is the case with 2Naturkinder's Weinschwärmer, a blend of 75% Grauburgunder, or Pinot Gris, and 25% Riesling. Acidity is the name of the game here, lended by both grapes but likely sharpened by the Riesling grapes. The nose gave away its botanical and black tea driven profile, with hints of white flowers sitting behind. The palate concurred, reminding me and my friend of some Georgian amber wines, if they had some of that distinctive Germanic acidity. There was a slight hint of smoke as well, making me think this structured and pulpy wine was likely best with food. After having this glass, I put the wine away for about 45 minutes. Upon returning, the acidity had conquered, turned volatile. It was tangy to the core, upending everything I thought the wine was. In the bottle, the wine had gone on a journey, and those of us drinking it were there to meet it at its strange end.
Living wine can mean different things to different people, but for me, it implies a dynamism that's hard to predict or measure. To say the least, 2Naturkinder's wine lives. For some of us, the unpredictable nature of natural wine is part of its appeal - it rejects the market-driven idea that winemakers have an obligation to deliver a consistent product to consumers year in and year out. But just as we're more than mere consumers, wine is more than just a product. It is a craft with the laborious task to capture both time and space, vintage and terroir, harvestime and environment. Wines like 2Naturkinder's are such snapshots, and if they can challenge someone's palate in the meantime, all the better.