Posted by Brian Leanza on February 10 2021 3:12pm
Vermouth might be the most misunderstood and underappreciated product that adorns most home bars. People know they need it to make many of their favorite cocktails, and they know it comes in sweet and dry varieties, but their knowledge seems to stop there. Many even make the mistake of leaving an open bottle on their bar indefinitely, allowing it to sit at room-temperature as it oxidizes and develops potentially off-putting flavors. The base of vermouth is wine, and it's only slightly fortified with additional alcohol, so it should always be refrigerated after opening to maintain freshness and prevent oxidation. That's not to say that the open vermouth on your bar will make you sick, but it might not taste great, and could detract from whatever cocktails you end up using it in.
As a bartender I have developed a deep appreciation for pretty much all things vermouth. It's bitter and herbal complexity with varying levels of sweetness is absolutely crucial to the world of boozy spirit-forward cocktails, especially the classics. Most of these cocktails use a style of sweet vermouth associated with Torino, Italy, making vermouth di Torino the most common and recognizable style. Despite its importance behind the bar, options have always been fairly limited and restricted to major imported brands that are now largely mass-produced. There are other less typical vermouths out there, but vermouth di Torino's use as a defining ingredient in many classic cocktails makes it difficult to change the flavor profile too much without sacrificing its familiarity.
This was the challenge for Jess and Cory at Method Spirits as they set out to create a vermouth that is both local and unique but stylistically familiar enough to shine in the classics. While bartending at Union Square Cafe, one of the best bar programs in the city, they realized the disconnect between the beautiful local ingredients that were going onto the plates and the largely imported ingredients making up some of the drinks. While there is a growing number of fantastic local spirits popping up, finding a local vermouth that fits the classic profile proved nearly impossible. So Jess and Cory addressed the problem head-on, sourcing local ingredients and developing their own to use behind the bar. With a clear talent and passion for making delicious local vermouth, they left Union Square Cafe in 2018 to found Method Spirits and bring their New York made, Torino-style aperitif to the masses.
For Jess and Cory the need for a sweet vermouth made locally is not just about quality, but also sustainability and support for the local agricultural community. Instead of shipping crates of product thousands of miles across the ocean, they've tapped into the plethora of resources in New York City's backyard. Method Spirits has partnered with Swedish Hill Winery in the Finger Lakes for the wine bases in Method's vermouths and Finger Lakes Distilling for the young brandy that fortifies them. Method Spirits, and both of their production partners, embrace the use of hybrid grape varietals that were developed by Cornell University to be more environmentally and economically sustainable. These grapes are better suited for growth in the northeastern climate and as a result require less intervention on the part of the farmer. The specific varietals used in Method Vermouth are Valvin Muscat and Cayuga White; the former for its flavor profile similar to traditional muscat, and the latter for the clean neutral backbone that allows Method's botanicals to shine.
Of course we can't talk about vermouth without hitting on the botanicals! Afterall, the word vermouth comes from the French pronunciation of the German word for wormwood: Wermut. And Method does not disappoint when it comes to the bill of botanicals they infuse into their Vermouths. Cory and Jess concocted a recipe of 29 classic botanicals, including Wormwood, Orris Root, Bitter Orange, Sweet Orange, Coriander, Camomile, Dittany of Crete, Marjoram, Hyssop, Fennel Seed, Cassia, Clove, Nutmeg, and Madagascar Vanilla. It's important to note that the use of wormwood is regulated in the U.S., and some domestic producers opt against using it. Jess and Cory, however, rightfully felt it was too crucial to their product and worth the extra effort to use the real thing. In addition to the botanicals, Method Vermouth has high quality caramel added to provide additional texture, body, and depth. And boy does it work! Method Sweet Vermouth has a smooth and luscious texture that coats your mouth upon the first sip. The initial flavors are of Caramel and clove, which then progresses into an herbal and woody bitterness as mild tannins grip the tongue. It really is a delight on it's own, which explains why the first half of my bottle of Method disappeared before I had even made my first cocktail. But as mentioned earlier it's not good enough for a vermouth to be delicious on it's own, it needs to work in the classics too. Method accomplishes that by capturing the magic of a classic Vermouth di Torino, while being made right in our backyard. Below are recipes for some of my favorite classic cocktails using Method Sweet Vermouth., all of which paired perfectly with a simple of aperitivo snacks. Cheers!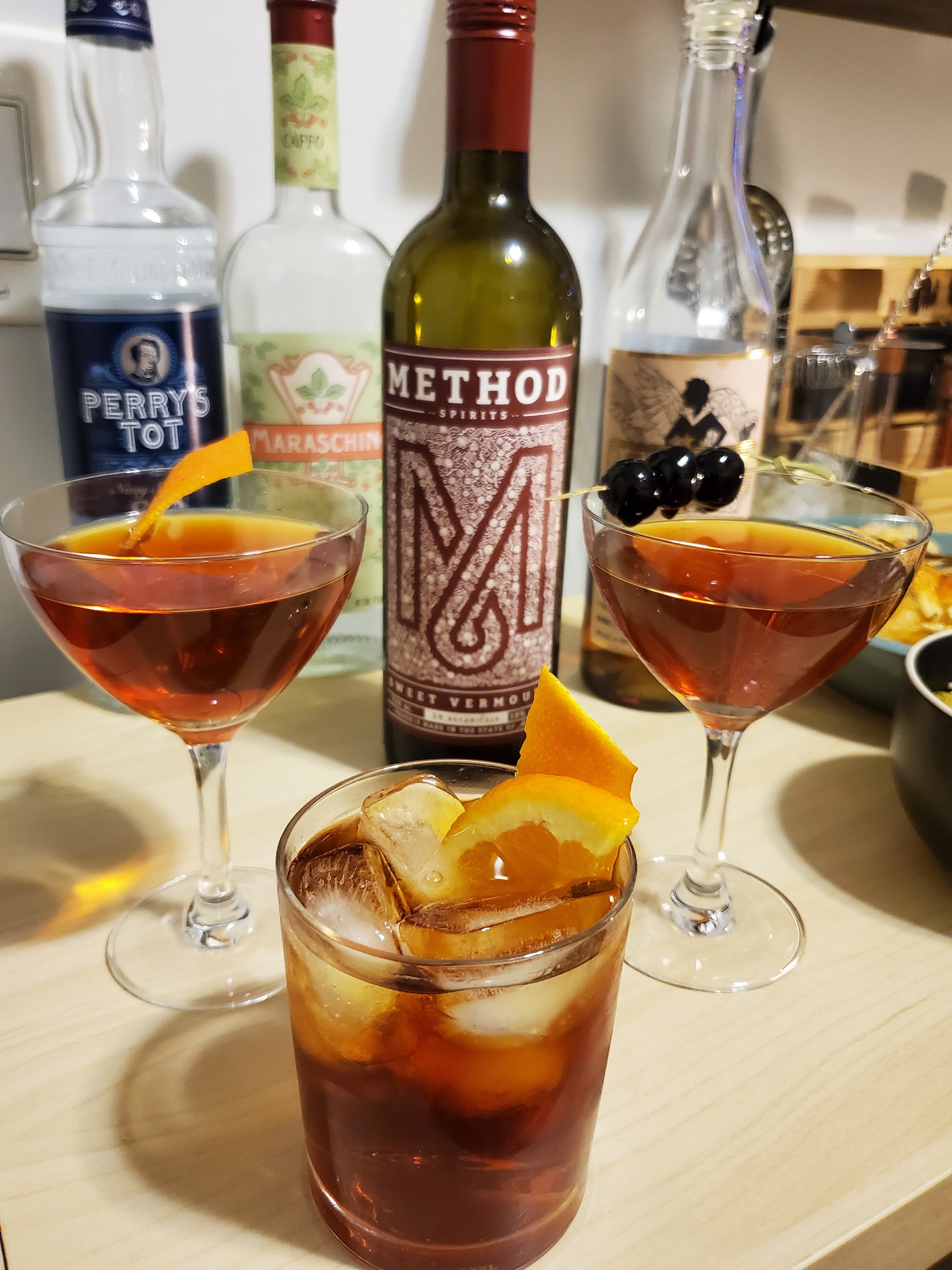 Method Manhattan:
2 dashes(8 hits, or 1⁄4 Tsp) Angostura Bitters
2 oz Mic Drop Rye Whiskey (any bourbon or rye will do)
1 oz Method Sweet Vermouth
Maraschino Cherries
Measure all ingredients into a mixing glass, fill halfway with ice, and stir quickly for about 40 rotations. Strain the cocktail into a chilled martini or coup glass and garnish with 3 maraschino cherries.
Method Martinez:
2 dashes(8 hits, or 1⁄4 Tsp) Angostura Bitters
1.5 oz NY Distilling Co. Perry's Tot Navy Strength Gin
1.5 oz Method Sweet Vermouth
.25 oz Caffo Maraschino Liqueur
Orange Peel Twist
Measure all ingredients into a mixing glass, fill halfway with ice and stir quickly for about 40 rotations. Strain the cocktail into a chilled martini or coup glass and garnish with a fresh orange peel twist. Be sure to twist and express the orange peel into the cocktail before dropping it in.
Method on the Rocks:
Method Sweet Vermouth
Club Soda
Orange Slice / Twist
This one is simple! Pour some Method Sweet Vermouth into a small rocks glass, add a splash of club soda to taste, and fill with ice. Garnish with an orange slice and an orange peel (don't forget to express!) for the full effect.