Posted by Veronika Jelenik on February 15 2022 1:40pm
I'll be honest—I did not choose this wine with the intention of associating it with Valentine's Day, but once I started taking pictures of it and noticing the details of not only the label but the wine itself, it seemed like a cosmic match. Or, maybe, Valentine's Day was just on my mind because of the influx of Instagram stories and posts from annoying I mean cute couples, plus articles I'd been editing like "X Things to Do When You're Single on Valentine's Day" (which I was, by the way! And I didn't do a face mask). But, in my defense, there was more than one thing about this wine that seemed on-theme, so I am calling it Valentine's Wine.
First off, the producer, Bichi, has some very creative and interesting labels, most of which are not, at least to me, aesthetically pleasing. This one, however, happened to be quite pretty, and I'm not saying you should judge a wine by its label, but we are all only human. Featuring a busty woman holding a bouquet of roses, I immediately thought, "People get roses on Valentine's Day! That goes!"
Also, this rosato made from Black Muscat was called "La Santa," and "Santa" means "saint," and Saint Valentine was the reason for the holiday, so…definitely not a stretch! (Indirectly related fun fact: "Bichi" translates to "naked.")
Now, the wine itself: It was pink AF, another Valentine's Day reference, because pink and red are the colors of love, I guess? It was actually a gorgeous cloudy magenta in the glass, resembling a light rosato or a dark rosé, but definitely not a full-on red.
The nose was interesting. It was a mix of roses, tart cherries, and unripe strawberries. It was very aromatic, as Muscats usually are, with that very floral, almost potpourri-like quality.
The notes on the nose translated to the palate, with dirt-covered strawberry dominating alongside a blend of garden roses, wild herbs, and watermelon rind. It was medium-light bodied with super high acid and very low, almost nonexistent tannins, making it quite gluggable, yet structured, with the potent aromas holding me back from a full-on chug.
This was a fun one to drink on Euphoria Sunday (not to be confused with Superbowl Sunday) alongside some tortilla chips, salsa, and homemade taquitos made by none other than Michael's Roommate Cara. In the interest of full disclosure, I did not actually drink this one Valentine's Day. For some reason I wanted to be stone-cold sober when I went to see Breakfast at Tiffany's in 35mm by myself at Angelika East. It was good except for the girl who kept kicking the back of my seat while making out with her boyfriend, who said the film was "basically La Dolce Vita but with a Hollywood ending," and the other girl who showed up 30 minutes late and demanded that the guy sitting in front of me, who had apparently stolen her seat in a row with three other empty seats, get up and move, obstructing my view and making me miss the dialogue of the entire scene. But whatever!
Bichi, the producer, is from Mexico, a first for me in terms of wine regions and the only wine we currently have from the country. Located right on the border of the U.S. in California Baja Norte, Bichi was founded by the Téllez family in 2014. Noel Téllez, leaving behind his career as an attorney in Tijuana, became the sole owner in 2017 with the assistance of Beaujolais-trained Yann Rohel.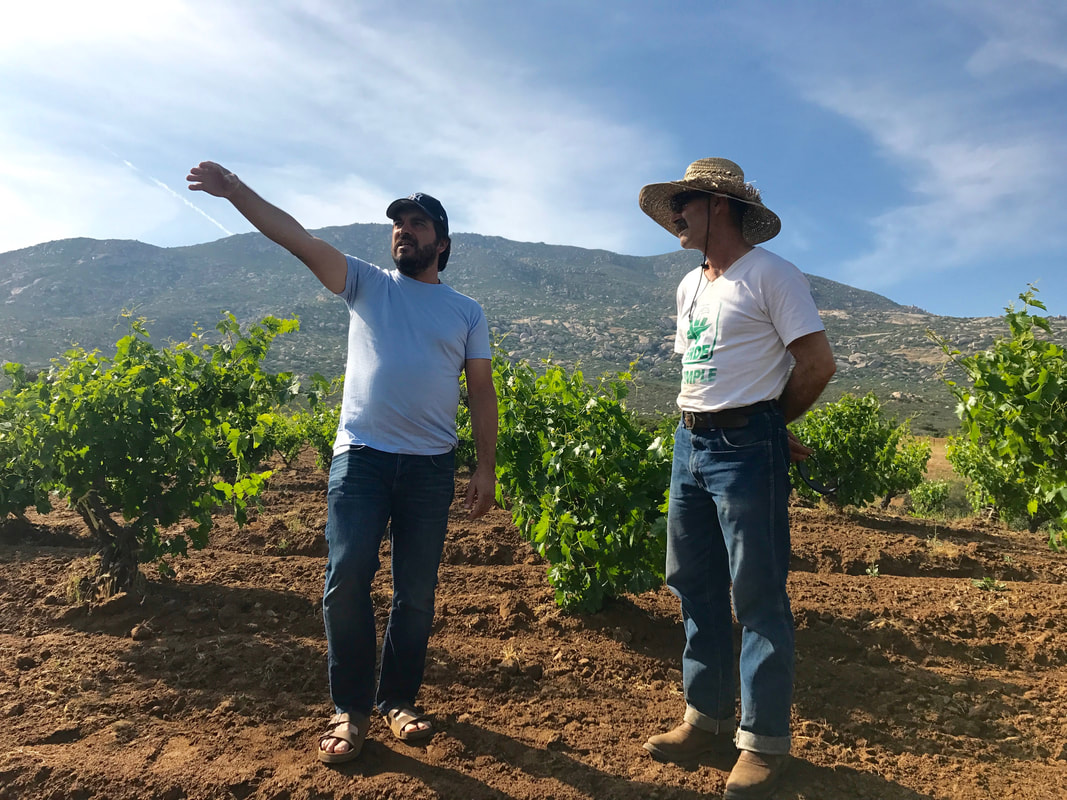 Owner Noel Téllez (left) and organic farmer Heriberto Camacho of Bichi standing in their vineyard in Tecate, Mexico.
Bichi farms their 10 hectares organically and biodynamically, collaborating with an increasing number of organic farmers working in Tecate and Valle de Guadalupe. Grapes are de-stemmed by hand, foot-stomped, and fermented with natural yeasts. A mere 10 ppm of sulfur is sometimes added to preserve the wine for travel.
Odds are, you haven't tried a Mexican wine, and if you have, try another! This one is super interesting, and although Valentine's Day is over, isn't every day V-Day when you're in love (with wine, that is)?