Posted by Veronika Jelenik on April 27 2022 1:58pm
For better or worse, it's officially rosé season. Not all rosé is created equally. Don't get me wrong—there is a time and place for pink wines that drink like water. But if you're looking for something a little more layered, dynamic, and thought-provoking, look no further than this (rare) bottle of Cesanese Rosato from Cantina Piero Riccardi Lorella Reale.
Based in Lazio, Italy, Riccardi Reale specializes in Cesanese, the native red grape that best represents the region, according to the winery. The two—both originally journalists, with Piero doing the farming and winemaking and Lorella handling administration and commercial relations—started the winery in 2010. They currently farm five hectares in the neighboring towns of Bellegra and Olevano Romano using organic, biodynamic, and sustainable methods, fermenting their wines with indigenous yeasts and rarely fining or filtering the juice.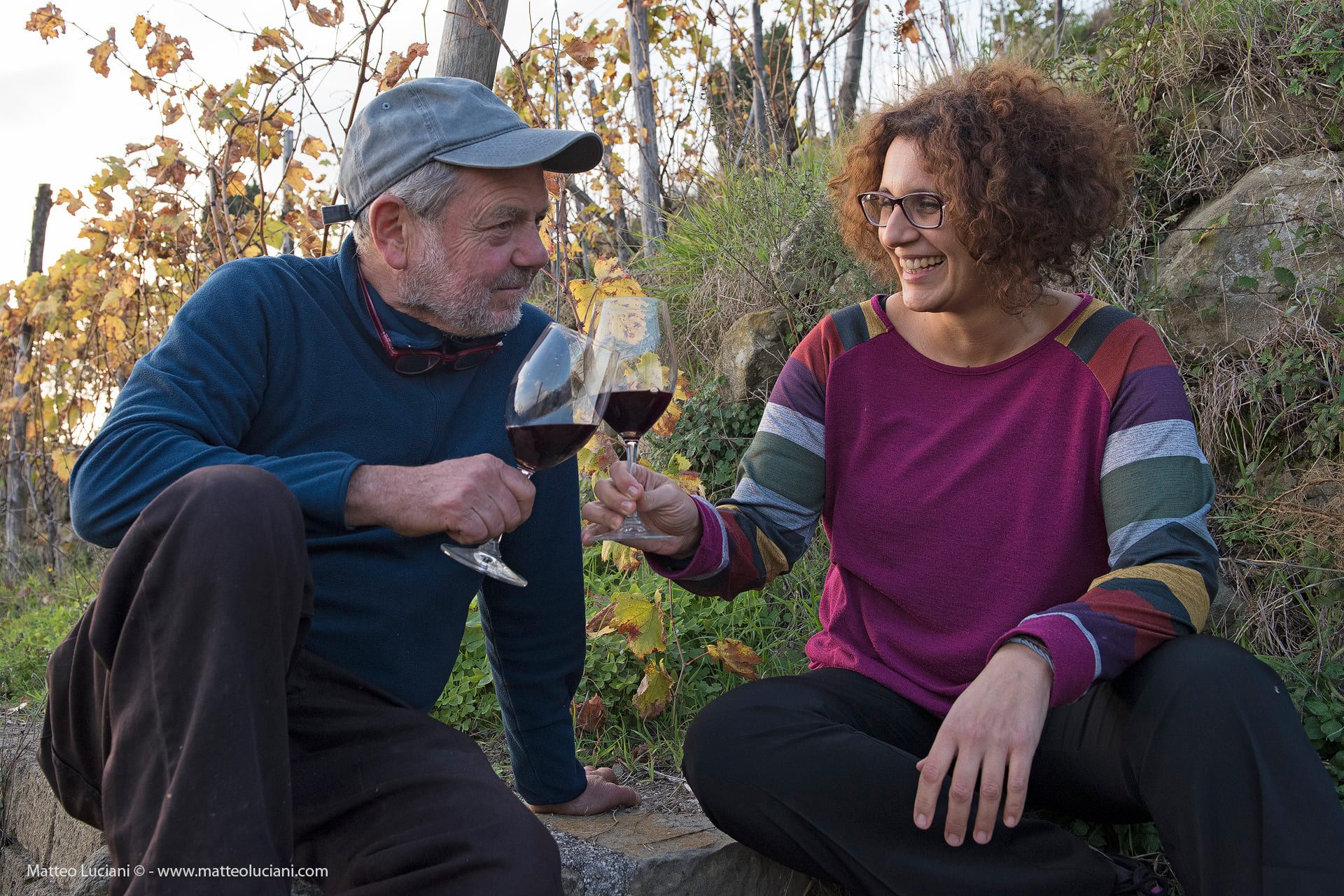 Piero Riccardi and Lorella Reale of Cantine Riccardi Reale in Lazio, Italy.
This was my first time trying Cesanese, and although I haven't tried a red Cesanese from the region, the rosato was extremely complex and representative of what the grape can do. (We were lucky enough to get a case, as only 2,000 bottles were produced.) "Tucuca" consisted of Cesanese grapes grown on two different types of soil: volcanic and sandstone. The fruit macerated on its skins for 8 hours before refining in chestnut barrels for seven months.
The result was one of the most interesting rosés I have personally ever tried. In the glass, it was a medium pink color, rather light for what I'd typically expect from a "rosato." On the nose, my initial notes were citrus, like ruby red grapefruit and blood orange, but the more it opened up, the more red fruit and floral notes I got. Pomegranate, cherry, and rose petal dominated, with a subtle minerality lingering behind.
The first sip surprised me with a tickle on my tongue, almost as if it were just slightly frizzante. It was vibrant, tangy, and crisp, with a super high acidity that made the finish highly satisfying and subtly electrifying. It was full of red fruit on the palate, like tart strawberry and raspberry, with a pronounced minerality and a hint of a white pepper aftertaste. Easy drinking, dry, and fresh, this would be the perfect park picnic wine.
I ate it with a Mediterranean-inspired dinner I made consisting of seasoned chicken breast, white rice, and a salad of cucumbers, cherry tomatoes, shallots, kalamata olives, goat cheese, and a simple red wine vinaigrette. The wine paired well with the meal, but I think a charcuterie board of dry cheeses and other accouterments were what this baby was made for. It was almost begging to be enjoyed in the sunshine instead of on a rather gloomy, rainy evening.
We've only got a few bottles of this one left, so don't hesitate! This bottle will shatter all your rosé preconceptions. Here's to sunny days!