Posted by Veronika Jelenik on March 23 2022 1:51pm
In the natural wine community, you come across a lot of esotericism. Whether it's the wine, the winemaker, the winemaking, the grape, the region, the fermentation process—intentional or not, it's narrowly understood. Some wines are so weird it seems the winemaker, like an abstract artist or contemporary poet, have created them only for the so few that would truly get it.
This week, I drank what I deemed to be one such wine, created by a Tuscan producer known as do.t.e—a punctuated acronym for "down to earth," signifying the totally raw, organic nature of the wines. Out of a few different bottles we received, I chose to drink "Heaven & Hell," partially because of my affinity for its moniker. My other influences were the aesthetic of the label and the word "kombucha" in the description.
In my experience, "kombucha" as a note, either on the nose or the palate, is hardly ever consistent from wine to wine. Sometimes, it means yeasty; others, it means there's lots of VA (or volatile acid, which is reminiscent of vinegar). Other times, it smells like mildew. Sometimes, it's just sour.
This wine was all of the above. The Tuscan blend of Trebbiano, Grechetto, and Malvasia di Candia was a super vivid orange in the glass; in some light, it looked like tangerine juice. It was actually a nice color—the epitome of "orange" wine. It was a bit cloudy due to being unfiltered.
The nose was "funky," which is admittedly an overused and vague term. To elaborate: It had volatile acid (that vinegar note), hints of Brett (a yeast that gives off notes of barnyard and bandages), and a lingering scent of musty basement. I also got more pleasant notes of mandarin orange, pineapple, and mango.
The palate was super high in acid, with a chewy tannic finish that was both lip-smacking and mouth-drying. It was the type of finish to make you want another sip. It was light-bodied, chuggable, and full of citrus, tropical, and stone fruit flavors, plus that bit of "funk."
If you're looking for a weird orange wine that's still light and glou-glou enough to bring to a party or enjoy with friends on a sunny day, this would be it. It's the perfect cross between niche-y and crowd-pleasing, if your friends are open-minded.
Filippo Calabresi is the winemaker behind do.t.e. He began farming small plots in 2015, and he currently owns and rents 4 hectares. His winemaking methods are completely natural; meaning, all juice ferments spontaneously with native yeasts, grapes are farmed organically, biodynamically, and sustainably, and wines are unfined, unfiltered, and bottled without any chemical additions, including sulfites.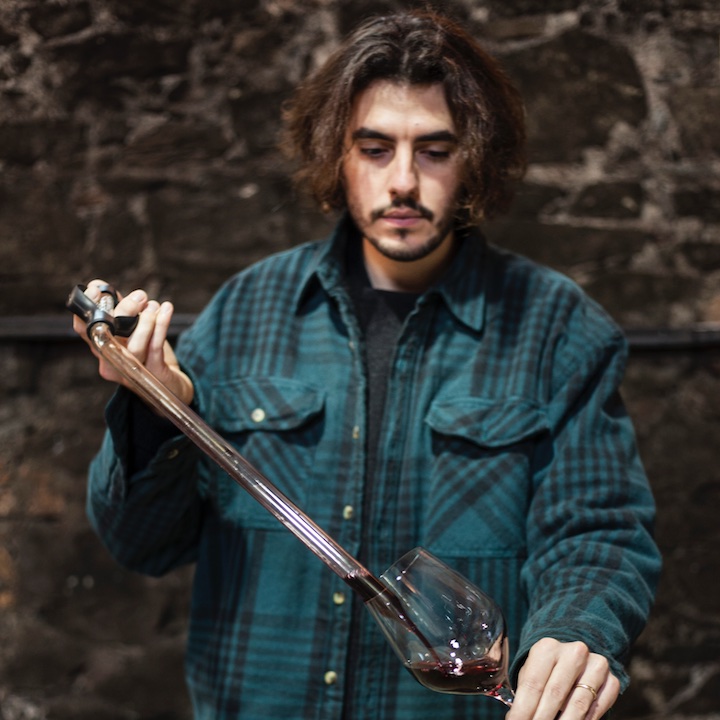 Filippo Calabresi, owner and winemaker at do.t.e in Tuscany, Italy.
According to the winemaker, "do.t.e. (down to earth) is an experimental entity that seeks alternative answers in the management of contemporary viticulture. It's taking one step back in order to go two steps forward. A return to agricultural origins that clearly defines the present and realistically imagines the future. It's the desire to stand out with wines that spontaneously expresses their reason for being—beyond statutes and production regulations—based on the foundational principles of the entire project: health, ethics, everyday life. Going back to wine as something that is able to reflect places, arouse feelings, heat up relationships."
Talk about esoteric.
Anyway, if you're looking for a weird, fun orange you can feel good about drinking, or if you need to heat up your relationship, try Heaven & Hell, or any of the other wines we have by do.t.e. You'll definitely be in for an experience.