Posted by Connor Kennedy on June 22 2022 6:48pm
Over the past few years, I've developed a deep respect for Oregon wine. Since I first got started in this industry and began indulging on a more serious level, I've consistently met people with a profound love and admiration for the wine coming from this western state. Naturally, their effusiveness for the stuff has passed on to me. And once you taste some of the best the state has to offer, you'd understand why. The state has developed a reputation as a "New Burgundy" of sorts, with many elegantly made Pinot Noirs and Chardonnays being reminiscent of the Burgundian style. But there are countless innovative winemakers in the state, working with many, many different grape varietals to hone and define what "Oregon wine" ought to be. Brianne Day of Day Wines is such a winemaker, with her "Vin de Days Blanc" being a prime example.
Day has become an icon in the Oregon natural wine world, and in relatively short order; her first vintage was in 2012, and has been making wine with grapes sourced from biodynamic, organic, or sustainable grapes ever since. She works with vineyards from across the now world-famous Willamette Valley, and carries a special affinity for the Applegate Valley, an AVA in southern Oregon where she sources some of her more unique and rare grapes. She maintains a firm commitment to the terroir of Oregonian regions, having crafted single-vineyard Pinot Noir and Chardonnay, and works with grapes as distinct as Müller-Thurgau, Côt, and Tannat. Working in wineries and vineyards across Oregon and in Burgundy, Argentina, and New Zealand among others could have only widened her breadth of oenological knowledge - and it shows. Her nimbleness as a vintner has doubtlessly contributed to the success she's found over the years, both within Oregon and without.
Day's "Vin de Days Blanc" is the quintessential day wine, and I swear, there's no pun intended. It is aromatic, floral, and tropical, and carries an ever so slight residual sugar that makes this an ideal wine for any day the sun seems just a little too overbearing. Noted by Day as an "Alsatian-style" wine, it's a blend of Müller-Thurgau, Riesling, Pinot Gris, Pinot Blanc, and Muscat, grapes that all offer distinct contributions to the wine's final make-up. The nose offers an expressive white flower element along with subtle herbal notes on the periphery. Tropical fruit are made prevalent on the palate, with fleshy pineapple and melon riding along a well-balanced and persistent acidity. Lemon and some orchard fruit dance in here as well, with everything given a slight oomph from the slight sugar content refreshing the palate. The wine is just plain pleasing.
I knew that Müller-Thurgau and certain Alsatian varietals grow in Oregon, but it's with Day's wines that I've first tasted them - she makes an excellent orange wine with the same name, also in homage to Alsace. To be honest, my conception of "good" Oregon wine has been dominated by the Pinot Noir/Chardonnay binary, and it's refreshing to have that challenged. There's still no doubt that they're the two cardinal varietals grown in the state, but in the grand scheme of things, Oregon winemaking is relatively new. Newness offers a chance for dynamism, and Brianne Day is seizing this opportunity.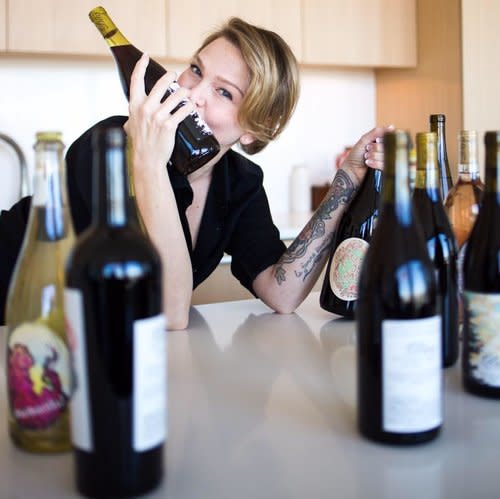 Brianne Day with a few of her bottlings.