Posted by Connor Kennedy on June 08 2022 1:52pm
This week's wine was a zippy one, which is one of my favorite ways to describe a wine with vibrant, persistent acidity. But I particularly like to use it when the wine is well-balanced while not holding back on the acidity, which can be a challenging line to strike for a winemaker. So it shouldn't be a surprise that I drank a Riesling this week, a grape varietal capable of producing some of the most acidic wine in the world. This bottle was the 2016 "Interval 104" by Slobodné Vinárstvo in Slovakia, and it definitely fits the bill. I can't say I've had a Slovakian Riesling before, where it in fact is referred to by the alternate name Rizling rýnsky, but this bottle did not disappoint.
Slovakian wine is largely produced in the western part of the country, where vineyards are scattered around the capital, Bratislava, and other western cities. But there is also a tiny portion of the famed Tokaj in southeastern Slovakia, a winemaking region which mostly lies within Hungary. This division came about from the Treaty of Trianon following World War I, but the wines and winemaking styles have remained comparable across both sides of the border. While the small portion of Tokaj has, historically, drawn the most interest to Slovakian wine, the western regions are starting to build international reputations as well. Slobodné makes wine out of the sub-region of Trnava, part of the broader wine region Malokarpatská, which stretches northeast of Bratislava. There is a long history of winemaking here, so for those of us nerdy enough, it's exciting to find bottles popping up in the United States.
Rizling comprises a significant portion of the plantings in Malokarpatská, and I can personally attest that Slobodné vinified a gorgeous expression of it. Their family estate, Zemianske Sady, began as a tobacco farm in 1912 and mostly produced wine for locals, but they also drew a following among bohemian artists in Prague. The political tumult of the 20th century forced a pause on production until 1997, when later generations of the family began revamping the 17 hectares of vineyards and the winery. They've been producing wines under "Slobodne" since 2010, growing varietals biodynamically and with historic ties to the region, like Grüner Veltliner, Red Traminer, Devin, Pinot Gris, Sauvignon Blanc, Rizling, Cabernet Sauvignon, and Alibernet.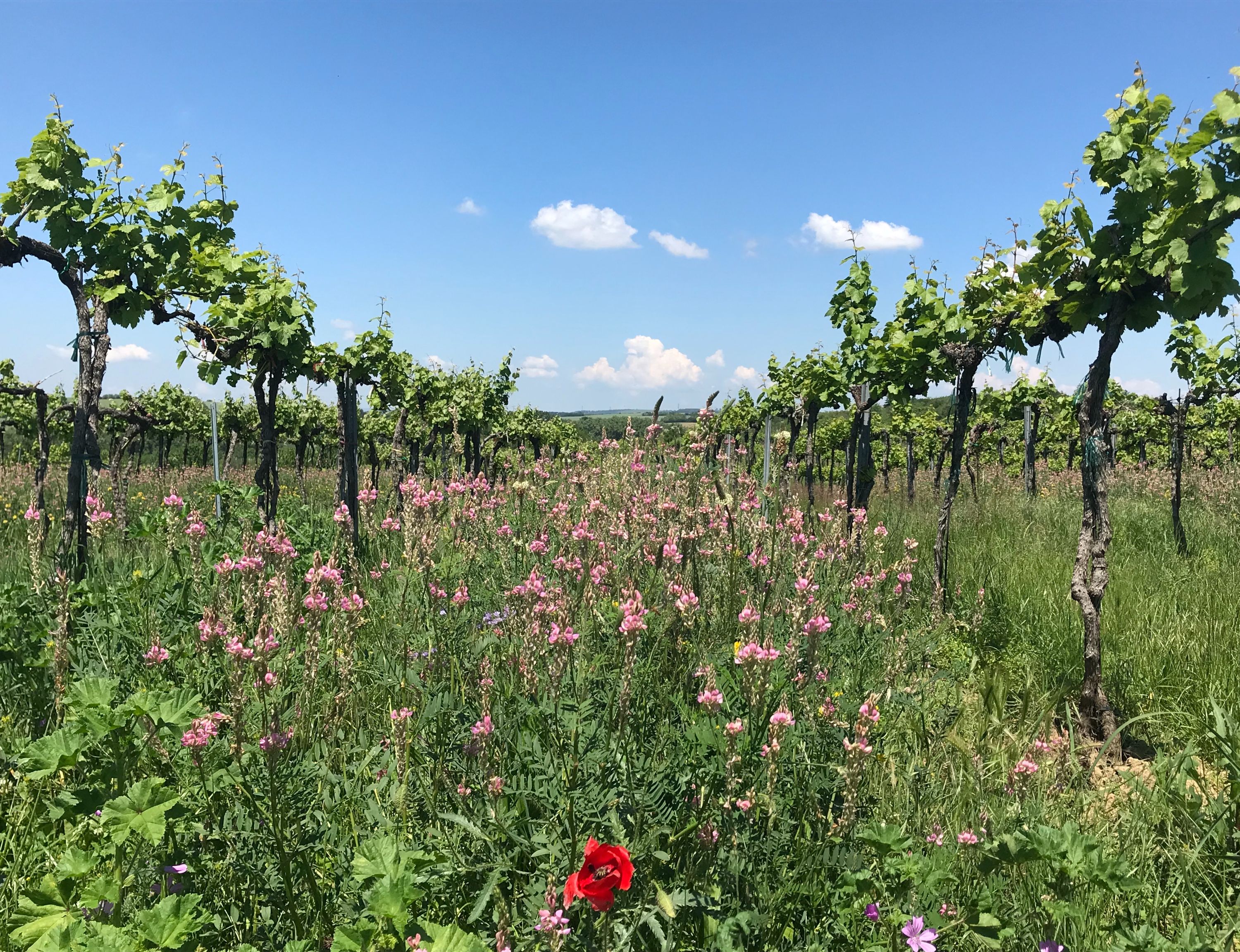 Vines growing at Zemianske Sady
This deep-yellow Rizling was emblematic right from the nose, with bright lemon-rind and peach notes and jumping out of the glass. Behind this was a petrol-esque minerality, something not infrequent with finer, delicate expressions of Riesling. On the palate, of course, a striking, zippy acidity dominated, but in a way that rounded out the complex array of flavors. It was a bit more pulpy than I had expected from the nose, with lemon and lemon-drop flavors rounded out by an extra bit of texture. This carried to the finish, where that unique Riesling sort of minerality returned and had me craving sip after sip. I had a glass with a Thai coconut curry I made, which proved to be a great pairing.
To be clear, I'm not here to extol my mediocre cooking skills (in fact, I'd sooner do the opposite), but I do think my meal was spiced well enough to make this high-acid Rizling taste even better. It is a common varietal to pair with East-Asian dishes and their unique blends of spices, which have the potential to make a tannic or weightier wine taste, frankly, quite bad. Acidity (and sweetness) is a great component to balance out spiciness in a dish, ensuring that both the meal and the beverage balance, rather than overpower each other. In the end, both the complex flavors of the dish and the wine bore out well, making the whole affair all the more delightful. How but through wine can you rightfully join the flavors of Slovakia and Thailand in one meal?