Posted by Connor Kennedy on July 23 2022 6:41pm
Carignan, a late-budding and late-ripening red grape varietal, carries with it a rich Mediterranean history. It's widely accepted to be of Spanish origins, where, depending on the region, it's referred to as Mazuelo, Cariñena, or Samsó, to name just a few. Nowadays, it's most commonly associated with France, where it lends vital acidity and color to blends throughout the South. Unfortunately, its widespread plantings there, particularly in Languedoc-Roussillon, has slightly diminished its reputation; some blame the high-yielding varietal for contributing to France's "wine lake", a period of massive overproduction of wine in the 2000s that led to the European Union ordering growers to uproot vines throughout the country. Despite contributing to this glut, there's been a renewed appreciation for Carignan, which delivers beautiful and unique mono-varietal expressions of it around the world, with especially delicious wines either being sourced from old vines or undergoing at least partial carbonic maceration. It has found a small yet comfortable home in California, which is where my bottle came from this week. I drank Two Shepherds' 2018 Trimble Vineyard Carignan, which was crafted by those with serious respect for the grape.
Two Shepherds is a project started by William Allen in 2010 and based in Sonoma County, California. William, who is now aided by his partner Karen, aims to highlight some of the relatively obscure grapes growing in California's vineyards, including Carignan, Grenache Blanc, Cinsault, Pinot Meunier, Marsanne, and Roussanne, among others. A long-time admirer of Rhône wines, much of the wine he vinifies draws inspiration from this storied French wine region, as he believes many of the grapes growing in the Rhône acclimate well to California's climate. In addition to growing some grapes of their own, Two Shepherds source grapes from a variety of boutique vineyards that grow an array of distinctive varietals. Over the years, Two Shepherds has produced a bountiful diversity of bottlings, with many of them only having a relatively small number of cases produced. Some have nicknamed William the "insane master of small lots", describing his ability to vinify a wide variety of wines simultaneously, without producing a very large amount of any single bottling.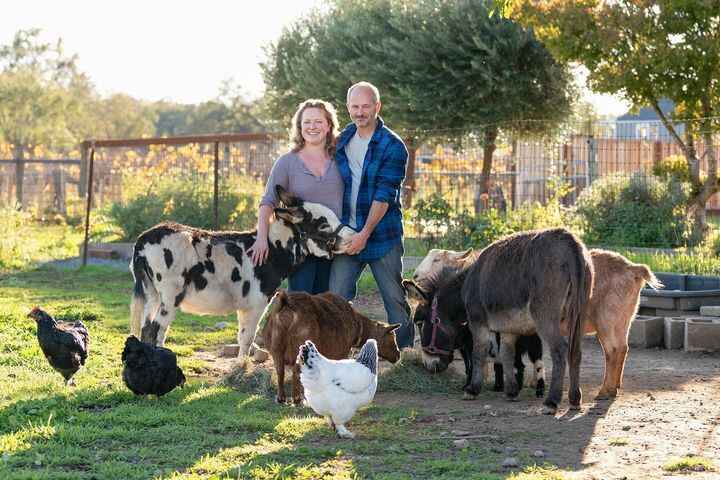 William Allen and his partner Karen, with some animals.
The grapes for the bottle I had this week come from Trimble Vineyard in Mendocino County, a dry-farmed organic vineyard with 65+ year vines of Carignan. These old-vines have lent this bottle from Two Shepherds a supple, acid-driven character. Subtle aromatics hint at its red-fruit qualities, sending whiffs of cranberries and tart cherries. The palate is medium-bodied, with bright cherry coming to the fore and subtle peppery notes sitting on the finish. There's a zippy, well balanced acidity and lighter, dusty tannins framing it all and carrying the wine through its persistent and yummy finish. This is a dynamic wine, and an extremely drinkable vintage right now in 2022 - it was both juicy and fruit-driven yet more rustic in its structural qualities. Its vibrant acidity makes this rounded-out red more than palpable on a hot summer night, and made me forget why people drift towards drinking white and rosé wine when the temperatures are 90+ degrees.
It's no wonder that older vines of Carignan produced such a deep and earnest wine. Carignan is normally a very high-yielding vine, with large clusters resulting in relatively lower flavor and structure per berry when compared to lower-yielding varietals. As vines age, however, there's usually diminishing yields and smaller berries, meaning there's a more balanced ripening across the grapes and each individual berry has a greater concentration of flavor. When vinifying Carignan, the age of the vine seems to bring the wine closer to the grape's essence. William Allen's 2018 Trimble Vineyard Carignan gets pretty darn close, and pushes the grape ever closer to a (deserved) state of seriousness and respect.