Posted by Veronika Jelenik on April 20 2022 12:18pm
I'll admit it. I was a Chardonnay hater. Even now, I would literally never walk into a wine shop and purchase a bottle of it for myself. But I'll never forget what one of our reps said when he was pouring some wines from Australia and New Zealand, one of which was a Chardonnay that everyone seemed to love but I didn't: "We've all had our journey with Chardonnay."
I didn't really know what he meant at the time but I think I sort of do now. The thing about Chardonnay—also known as White Burgundy when it's made in the French region—is that the way it's made can almost entirely change the way it tastes. Usually, I think of super oaky, creamy, round, medium-bodied wines when I think of Chard, but that only represents a small fraction. Chardonnay can also be fruity and minerally and bright, and I had to learn this by trying a bunch I hated before finding some I liked. My journey, if you will.
This bottle was a perfect example of a Chardonnay that tasted entirely atypical. It comes from French producer Julien Altaber, a born farmer who grew up Auvergne and now owns a winery and cellar in St. Aubin. "La Fleur au Verre" is just one of his white Burgundy cuvees, which I chose specifically because I didn't see the word "buttery" or any adjacent adjectives in its description.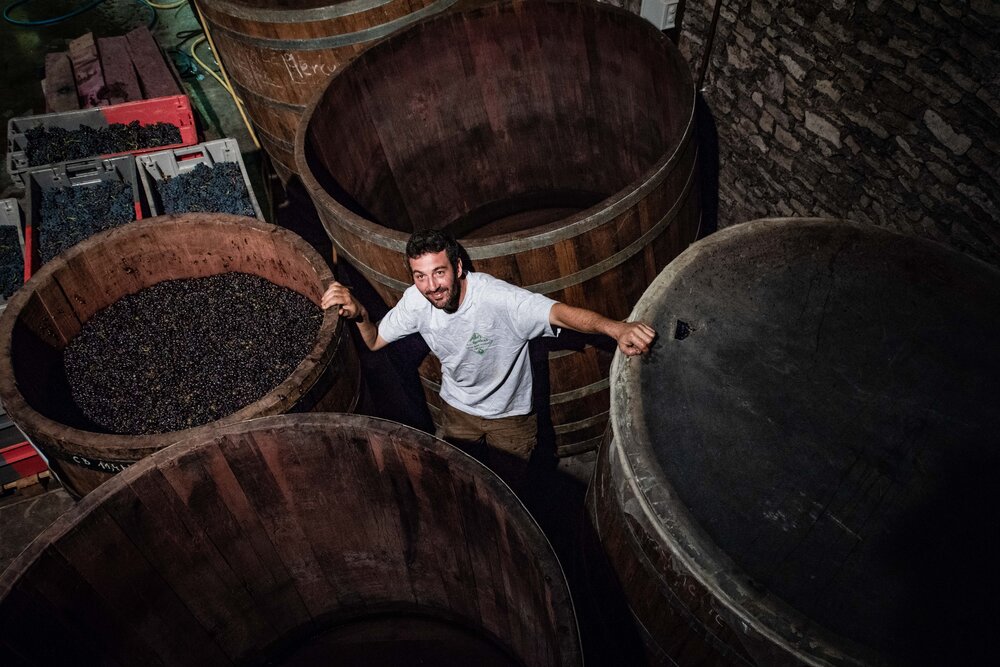 Winemaker Julien Altaber of Vins Sextant in St. Aubin, France.
Everything about this wine was unexpected. In the glass, it was a cloudy bright yellow, due to a week-ish long maceration on the skins before pressing. The nose was oxidative and in your face with minerals. Flint and petrol and sulfur dominated, with a subtle lemony aroma.
The first sip was enigmatic. In fact, the first note I wrote was: "very odd…interesting…unexpected…hard to define…so many layers? weird." Upon taking a few more sips and trying to decipher this strange juice, I got notes of lemon zest, green apple, grass, sulfur, and minerals. It was super high in acid with a lip-puckering, borderline sour finish. It had a medium-minus body and was incredibly bright, making this a fresher and less heavy option for the varietal.
This is a perfect bottle for someone in the market for weird, atypical wines that are organic and biodynamic and made with otherwise natural methods. It would be fun to taste through all Altaber's cuvees (he has a selection of Pinots, too) and see how they compare to one another.
Here's to all being on our Chardonnay journey. Cheers!