Posted by Veronika Jelenik on March 30 2022 1:37pm
I've said it before, and I'll say it again: I love Pinot Noir. It's not that every Pinot I try is amazing. But to me, if it's from a region like Burgundy or the PNW and coming from at least a somewhat reputable producer, the grape varietal creates the most consistently good wines. Even if I don't like it, I'll still sort of like it.
This week I chose a Pinot Noir from Burgundy—the crème de la crème (some say) when it comes to Pinots—by producer Vincent Thomas of Domaine de la Chappe. I knew going in that he made "different" kinds of Burgundy wines—that is, more fun, more approachable, etc. I also knew, as my manager told me, that he makes "a good expression of natural wines." That info didn't exactly entice me. In fact, it kind of put me off.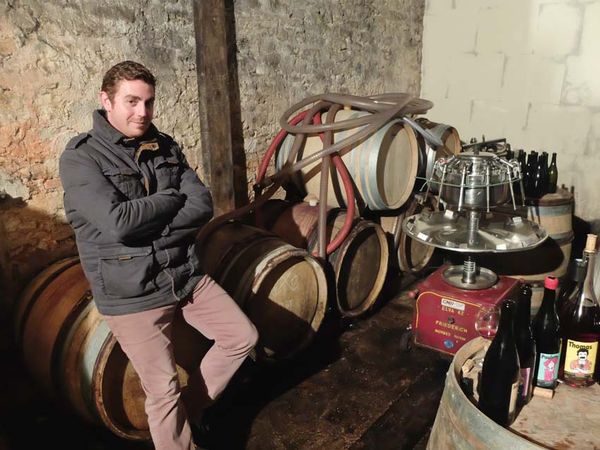 Vincent Thomas of Domaine de la Chappe in Burgundy, France.
There are a lot of people who want Brett, VA, barnyard funk—for whatever reason, probably the same reason people claim to like kale and green juice—but I am not one of them. Which is why I was extremely pleasantly surprised by this bottle.
I am in love with this Pinot. It's probably one of the best ones I've tried, like, ever, and being "all natural," that is, organic, biodynamic, unfined/unfiltered, no added sulfites, it doesn't give off any super weird accosting fragrances. There is the very slightest hint of "funk" upon first opening the bottle, but it quickly wears off, and even at that, the other delightful fruity notes are much more prominent.
In the glass, it's a gorgeous opaque red with violet undertones. The nose is a total fruit bomb—think ripe summer berry fruit salad with strawberries, raspberries, blackberries, and blueberries. There's also a bit of Amarena cherry in there along with a some wild lilac.
On the palate, it's super juicy, with medium acidity, a medium body, and low tannins. Notes were mostly red fruits, minerals, and a bit of lavender. It was pure, velvety smooth, bright and fun and flirty and not at all stuffy. Easy drinking, agreeable, crowd-pleasing, delicious.
I didn't chill before I drank it, but just a tiny touch cooler would have been lovely. At 14% ABV, it was surprisingly fresh and light on its feet—it didn't give off any of those "hot" alcohol notes, but it did give me a great buzz that lulled me right to sleep after—and I'll admit it shamelessly—watching Shrek 1 and 2 with my roommate.
Be careful not to chug this wine. It has that quality that makes you want to just sip it like a juice box.
If you're wondering about the label, the producer, Vincent Thomas, creates characters for all his wines. This one is André, after his father.
I'll definitely be trying his other cuvées next. Long story short, don't sleep on this Pinot—I'll probably be hoarding another few bottles.
Click Here to Purchase Vincent Thomas, Domaine de La Chappe, "André"