Posted by Veronika Jelenik on October 20 2021 12:10pm
In 2008, Borgogno, one of the oldest wineries in Piemonte, Italy, submitted their Barolo Nebbiolo to the Barolo tasting commission. The commission said it wasn't "up to snuff" and would therefore not grant it the Barolo label. Outraged, the producers submitted a second bottle of the same wine, which the commission approved. A clear display of bureaucracy and arbitrary criteria, Borgogno decided they didn't care whether or not their wine said "Barolo" on the bottle. They knew it was really good wine, and they were reasonably pissed off. So, in protest, they labeled their Barolo "No Name," and produce a bottle under this anti-moniker each year.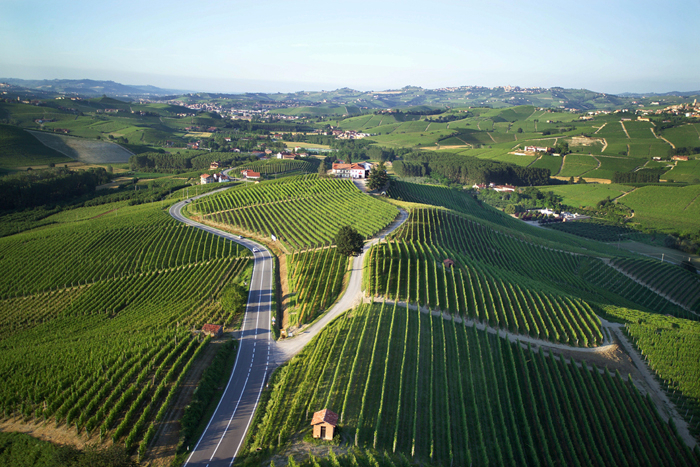 An aireal photo of the Giacomo Borgogno e Figli vines in Langhe
If you're into Italian reds, odds are, you've come across a Barolo, and you probably spent a good chunk of your paycheck on it. Produced in the Piemonte region with Nebbiolo grapes, wine lovers regard it as one of the finest things to come out of Italy. This nameless bottle was no exception, and despite not bearing the prestigious label (or perhaps because of it—I do love a rebel), it was one of the most delicious and intriguing Barolos I've ever tasted.
There was something inherently sexual about this wine. My coworker, Sarah, with whom I shared this bottle, described its strong tannins as "gorilla grip," while a Vivino user called them "S & M." Signature of a Barolo, it did have a slap-in-your-face dry finish that, for some reason, sent drinkers' minds immediately to the gutter.
This wine was an Italian mobster smoking a cigar and playing poker in a darkened bar after-hours while getting his Mafia leather shoes shined. In the glass, its scarlet-ruby red, deceivingly light in color given its bold flavors and full body. I smelled cherry and raspberry mixed with cigar box and decades-old, family-owned Italian restaurant. There were subtly earthy notes, too, like wet dirt in spring.
My first sip was full of tart cherries, while the finish had leathery quality and tannins that made me swallow a few times over. There was also a subtle smokiness that lingered in my mouth. About a half hour after I popped the cork, though, the wine "cooled off"—perhaps the bottled-up resentment toward Italian agricultural bureaucracy dissipated when the wine realized it was doing its job (getting us buzzed and making us go "mmm"). Or, some of the alcohol evaporated.
The tart fruits ripened, displaying more of a strawberry jam flavor rather than fresh-picked red cherry. The tannins softened, too, giving a smoother quality to the finish.
As for pairing with food, I would not suggest barbecue potato chips, which I sadly succumbed to once the drunchies set in, and it was hugely disrespectful. (Quick tip: Tannins + Spicy = Bad). On keeping with the theme, I'd stick with some old-school spaghetti and meatballs, a fatty steak with oven-roasted potatoes, or maybe even a rosemary lamb chop, if you're into that sort of thing. Definitely nothing creamy and keep vegetables out of it.
Best enjoyed over time with good company.