Posted by Connor Kennedy on September 04 2022 1:35pm
Covering the long, ancient history of Georgian wine making is too grand a task for one short blog post. From the sheer breadth of style to its hundreds upon hundreds of indigenous grape varieties, the country carries a rich wine culture that one could spend a lifetime exploring. Indeed, I do plan to do such exploring, one bottle at a time. In recent months I've become better acquainted with the country's wines, and have taken a keen interest in those fermented and aged in what's known as Kvevri. These are large, egg-shaped clay vessels uniquely suited for storing wine, whose usage date back to the 6th millennium BC in the earliest known instances of winemaking. Often associated with the production of amber wine, in which white grape juice macerates with white grape skins, seeds, and stems, Kvevri is also used to ferment and age red wine, the most common of which is vinified with the red grape Saperavi. This week I had such a red wine from Gotsa, a producer who exhibits a deep respect for Georgia's wide array of wine traditions.
The art of making Kvevri, often spelled Qvevri, is ancient; it's been passed down through families and communities where winemaking, vineyard management, and Kvevri production are often communal activities. The fine craft of manufacturing these large vessels includes locating the right clay and firing it for days upon end. It is an integral part of Georgian culture - UNESCO recognized in 2013 Kvevri wine making as part of the world's intangible cultural heritage. Those practicing this style today are maintaining this ancient tradition while offering the world a more expansive understanding of the term terroir.
Just how is Kvevri wine made? After the grapes are pressed, the juice and its pomace is poured into the Kvervi, which is buried underground where it facilitates alcoholic fermentation. Once the fermentation is complete, the Kvevri can either be closed off, where the wine can sit with its skins, pips, and stems to extract further flavors and tannins, or it could be moved to a fresh vessel to continue aging, which often have their interiors lined with beeswax. A distinctive quality of Kvevri, as with all earthenware, is its porosity, allowing a degree of oxygen to pass through the clay as the wine sits in the vessel. This natural quality can impart oxidative notes, or a more pronounced minerality to the wine, all while maintaining a remarkable degree of stabilization in this low-intervention environment. For the very best producers, every step of this process involves a special kinship with the environment, from finding the best clay to locally sourcing the beeswax.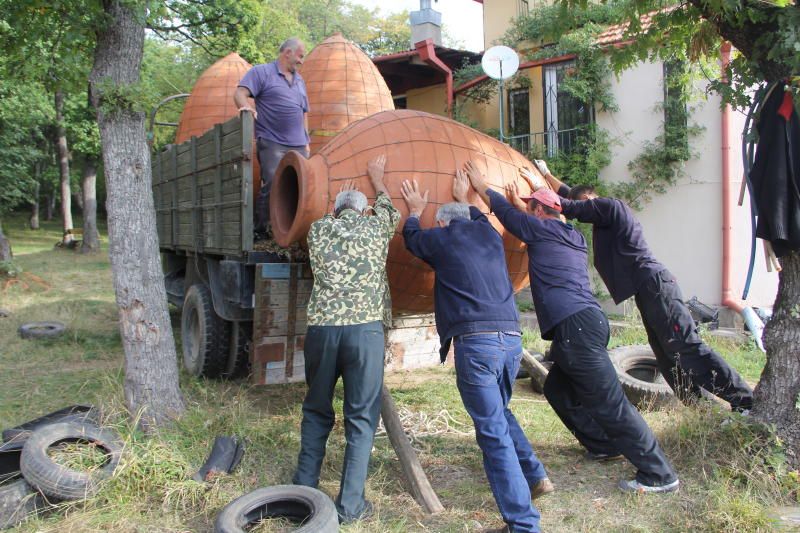 Kvevris being loaded at Gotsa Wines. Source: rawwine.com
Gotsa is one of these producers, vinifying a variety of both eastern and western Georgian grape varietals in these traditional methods. Run by Beka Gotsadze, an architect-turned-winemaker, the winery operates out of the mountainous village Kiketi, just west of the capital Tbilisi in the greater region of Kartli. Like many Georgians, Gotsadze can trace winemaking through his family tree: his great-grandfather, Konstantin Gotsadze, made wine in his own cellar in the country's west, which his family continued after moving to Tbilisi. Today, in the cool hills surrounding Kiketi, Gotsadze spurns the use of additives both in the vineyard and the winery in search of the purest expression of grape, family, and place. There's something particularly wild about these wines, even while they strike a delicate balance. Open one, and you'll see - it's as if each bottle were an unadulterated force of nature.
This week I drank a 2016 Saperavi Reserve, fermented and aged in Kvevri. Like many Saperavi wines, this wine was deep and inky, sitting a rustic garnet color in the glass. The nose was distinct, with ripe fig and stewed berries finding its way through. The palate was rich, though not too heavily structured; its tannins were fine and dusty, perhaps having mellowed with age. There was an elastic acidity giving the fruit on the palate a certain bounce, no doubt hinting the wine would have aged well in the years to come. The finish ended on a savory note, with smoked pepper playing well with the fine minerality lingering on the palate. Plainly speaking, the wine was fine yet complex, and a dynamic expression of one of Georgia's hallmark grape varietals.
Lately, I've been thinking about what it means for a wine to have a sense of place, often encapsulated by the term terroir. For a long time, the term has had a relatively narrow meaning, often referring to the soil in which the grapevines grow and sometimes including the broader climatic conditions. But as made evident by certain wines coming from Georgia, a more expansive understanding can come forth, where important factors like soil and climate matter but so does the wider web of human craft, communities, and culture within which wine is made. Low-intervention wines are a great avenue in which this sort of idea can take shape. Not every wine lover would be open to this kind of understanding of terroir, and that's ok. In the meantime, I'm gonna keep drinking Georgian wines.