Posted by Connor Kennedy on May 18 2023 4:11pm
Campania's wines are striking, varied, and, like many Italian wines, gastronomic to the core. Drinking a glass of an opulent Falanghina or a deeply tannic Aglianico can, in the right meal, practically be a course into itself. The wines in Campania dates back to 12th century B.C., providing centuries upon centuries for the winemaking to develop in tandem with the region's dynamic cuisine. It has also long lent the Campanians cultural prestige; in Roman times, the famous Falernian wine was a hot product from Campania, in more ways than one. It was both widely popular and very alcoholic, and thought to be produced with Aglianico, Greco, or Falanghina grapes, all varieties essential to the region today. Though we can only guess what Falernian wine tastes like, there's no shortage of delicious Campanian wine to drink today. This week I had a Fiano di Avellino from Azienda Agricola Traerte, their 2017 "Aipierti". I had it twice, in fact - the people and the meals were calling for it.
Campania sits about two hours south of Rome, housing Naples and the surrounding areas inland. Traerte, formerly known as Vadiaperti, resides in the ancient land of Irpinia, which coincides with the contemporary province of Avellino. At its helm is Raffaele Troisi, a man who comes from a family with a long history of elevating the white grape varietals indigenous to Irpinia. A new favorite of mine is the Fiano grape, often expressed in the mono-varietal Fiano di Avellino DOCG. The "Aipierti" is perhaps the finest of Traerte's Fiano's, being vinified in only the most pristine vintages. The grapes come from high-elevation vineyards with clayey soils, providing a balancing freshness and acidity to the wine that guarantees aging potential. There's no doubt Troisi is carrying on his father's legacy, who was the first in the family to produce a single-varietal Fiano.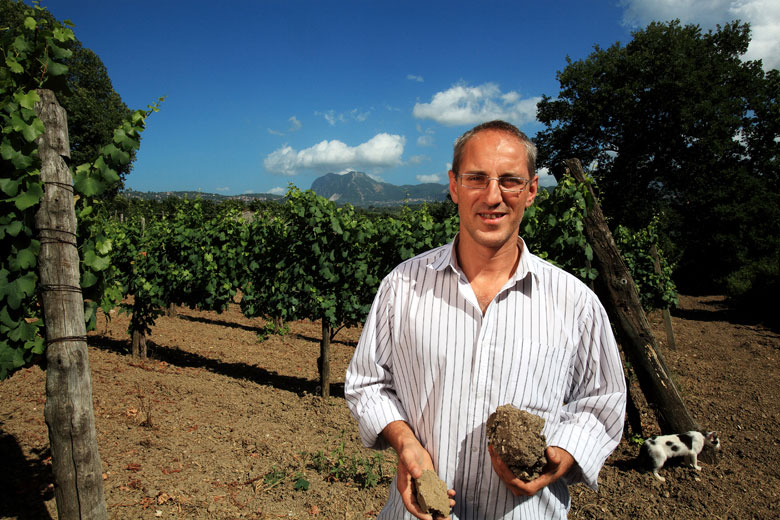 Raffaele Troisi holding some soil.
Each time I have a nice Fiano, which has been more frequent as of late, it's as if the wine itself has been seasoned by southern Italy's mediterranean flora. They've exhibited an array of herbaceous qualities that underpin the wine's distinctively savory character. This is especially true when you let the grapes speak for themselves and refrain from any extraneous interventions like using newer oak barrels. We see this honest expression with "Aipierti", which sits on its lees in steel tanks, giving heft to the wine's dense and powerful structure without obstructing the wine's glimmering acidity. The nose leads with yellow pear and orange blossoms, while hinting at the wine's resinous, piny herbs of rosemary and basil. The mouth-feel is smooth, almost oily in texture, lifting the rounded fruit judiciously expressed at the front-end before lending to a stonier and dry finish. I suspect this texture is partially due to the age of the wine, which is now approaching 6 years. You want this vintage wine at any meal that's well-seasoned and where fountains of olive oil spout without end.
And yet, there are countless wines that deserve a spot at such a table. So why this Fiano di Avellino? If there's one thing about my passion for wine I most appreciate, it's that it has turned me into a much better eater. My thinking about a wine's structural factors, like acidity and density, and their relationship to flavor has translated to my thinking while eating a good meal. The balance a chef is aiming for is not dissimilar to that of a winemaker, after all. Though I've always loved food, it's my respect for wine that has heightened that love even further. And there are wines out there, like Traerte's Fiano, that possess such poise that the lines between food and drink blur when the setting is right. Just some food for thought.