Posted by Connor Kennedy on July 17 2022 3:10pm
What does it mean for a wine to have an identity? Place of origin, grape varietals, and winemaking philosophies all play important roles in forming it, to be sure. In the most general sense, however, the color of the wine seems to determine its essence. This all may sound a bit too existential, and perhaps it is. That makes it no less an important question - a wine deemed rosé as opposed to a light red, for example, or wine being considered "orange" rather than white can set the desires and expectations in a wine drinker, for better or worse. We all have preconceived notions about what a wine should taste like, with color often playing an outsized role. These days, more and more wines defy strict categorization, lying in a state of sublime ambiguity. Some macerated wine made of white grapes could credibly be placed on either an orange or white section on a wine list, and some co-fermentations blending both red and white grapes refuse to be neatly classified. This week's wine is altogether different - I drank a skin-contact Gewürztraminer from Domaine Laurent Bannwarth, named "La Vie en Rose". It's the sort of wine that helps us break through the morass and ask the right question: does any of this matter if the wine is delicious?
Domaine Laurent Bannwarth is operated by winemaker Stéphane Bannwarth with the help of his wife Geneviève and sister Régine. It's named after Stéphane and Régine's grandfather, Laurent Bannwarth, who founded the winery in 1955. It sits in Obermorschwihr, a tiny village in Alsace, France. They're producing quintessential Alsatian wines through and through, but are not afraid of pursuing unique and novel ways to allow the grapes to flourish and find rightful expression. You can find Georgian qvevri pots in his cellar, which are large, clay vessels traditionally used for the storing and fermentation of wine, and are often associated with amber wine that sees extended maceration periods. Bannwarth is also known for producing serious wines in the pétillant naturel sparkling style, of which it can often be difficult to produce wines of depth and complexity. There are 12 hectares in use by the Domaine, with diverse soil compositions allowing plantings of their classic Alsatian varietals to acclimate and develop distinct senses of place even before heading to the winery, where a philosophy of minimal intervention reigns.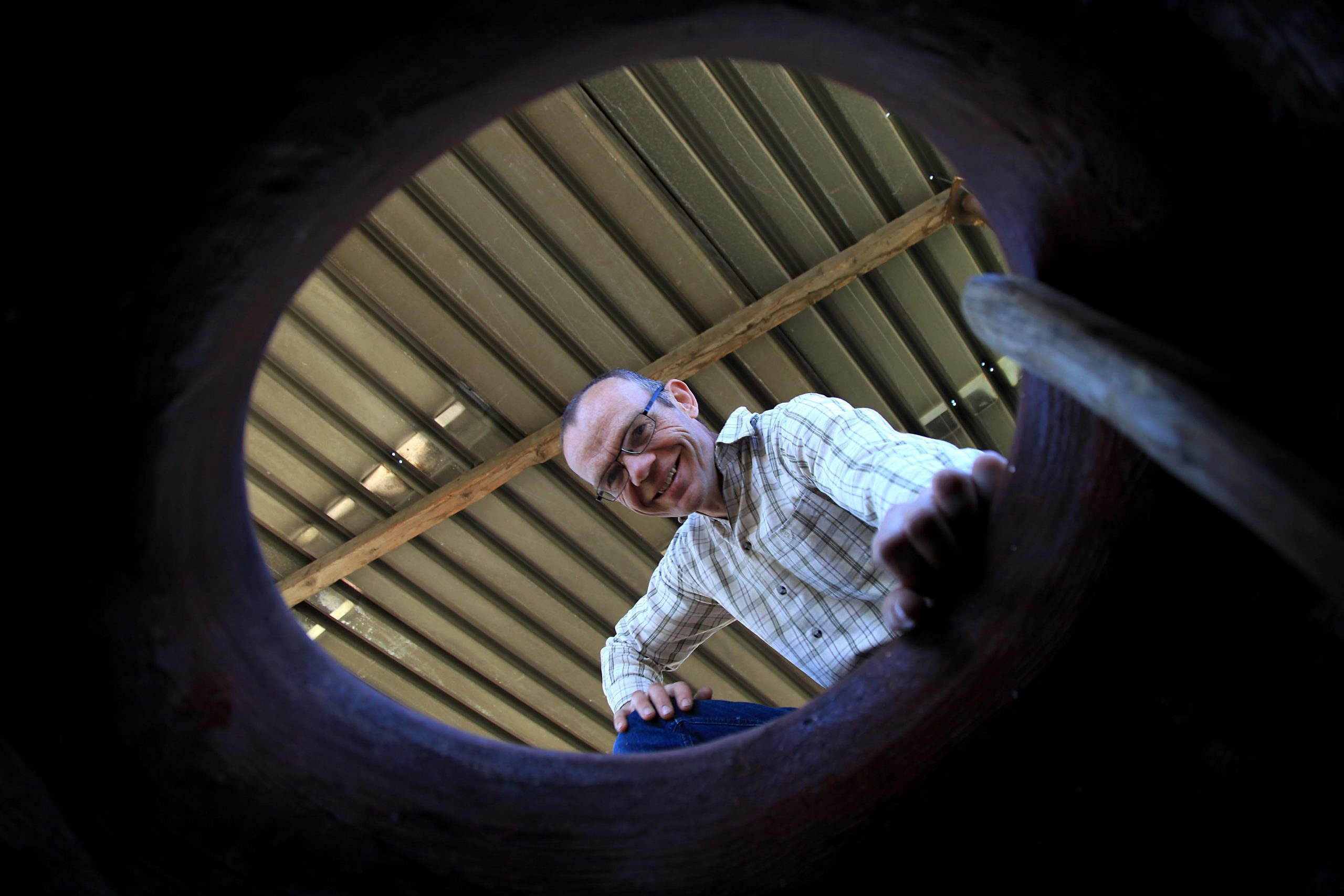 Stéphane Bannwarth cheerfully staring into a vessel.
One thing making this wine, "La Vie en Rose", unique is its color, which glistens a rusty, coppery hue in the glass. The grape Gewürztraminer is known for producing low-acid, lychee-accented white wine, but its grape skins possess a distinctively pinkish tinge. If there is a maceration period during the winemaking process, as with Bannwarth's wine (though "La Vie en Rose" ferments in stainless steel rather than qvevri), the result is a not-quite rosé and a not-quite amber wine. Like the old-school Friulian wine Ramato, which is made of Pinot Gris, a similarly pinkish grape, this Gewürztraminer does not fit into traditional categories. So call it what you want; if I had to put it in a box, I'd put it in the modest one of "really damn good". The nose opens up with those classic lychee aromatics, coupled with some red floral notes and exotic spices. The palate is driven by an array of orchard fruit notes, particularly reminiscent of bruised apples and apple skins, with that same floral component balancing out this dry, textured wine. There's no doubt this is an Alsatian Gewürztraminer, yet Bannwarth nonetheless offers something novel and forward-thinking.
I have a friend who half-jokingly calls this sort of wine "brown wine". It's true, macerated wine with pinkish skinned grapes often results in a rusty, coppery, or outright brown color. To some, this may be off-putting; to that, I say more for me! Through severe manipulation, a winemaker could force the wine to be a more congenial pink, but would that not just amount to little more than a sleight of hand? Though color can no doubt indicate certain things about a wine, at the end of the day (or bottle) it's all about how it smelled and tasted. That's at least where I like to think the art in a wine lies.