Posted by Veronika Jelenik on March 16 2022 12:47pm
Nothing screams warm weather and sunshine like a rosé pét-nat. I don't know about you, but as soon as the temperature creeps above 50 degrees, all I want to do is lie in the dead grass at Tompkins Square Park, listen to hip-hop, avoid my responsibilities, and drink bubbly wine. After enduring a snow-filled, wind-laden, freezing cold weekend—winter's last hoorah, I guess—I braced myself for the First Nice Week with a bottle of wine practically made for the occasion.
In New York City, the First Nice Week, often occurring in mid-to-late March, is characterized by four or more consecutive days of consistently nice weather—that is, temperatures ranging from 55 to 65 degrees and at least a half-sun every day on the Apple weather app. Most likely, it's a welcome reprieve directly following (or preceding) a seasonally inappropriate Nor'easter.
The First Nice Week evokes a vibe like no other—both the sound of motorcycle engines and the scent of cigarette smoke increase ten-fold, and previously barren parks fill to the brim with people who don't work during the weekdays, apparently. Girls bust out their thrifted Levi shorts and Birkenstocks and dudes wear the same t-shirt and chinos combo they've probably been wearing for the past three months. Sidewalk seating at bars sees nine-to-fivers enjoying happy hour, same as they always had except outside this time, and the seasonally depressed engaging with friends, eating, and smiling, again, finally.
The First Nice Week called for something crisp, refreshing, light, bubbly, pretty, fruity, and happiness-inducing. Enter Cantina Marilina's "Fedelie" Rosato Pét-Nat, made from 100% Nero d'Avola on the island of Sicily. The vineyard is operated by two sisters, Marilina and Federica Paternò (as someone with sisters, it's hard for me to imagine running a business with either of them, especially if I was the one whom the vineyard wasn't named after, so props to them) who inherited the company from their father, Angelo Paternò. It pains me to say this, because the number of Susucaru inquiries I get on the daily are enough to make me go postal, but the winemakers draw a lot of inspiration from renowned natural winemaker Frank Cornelissen.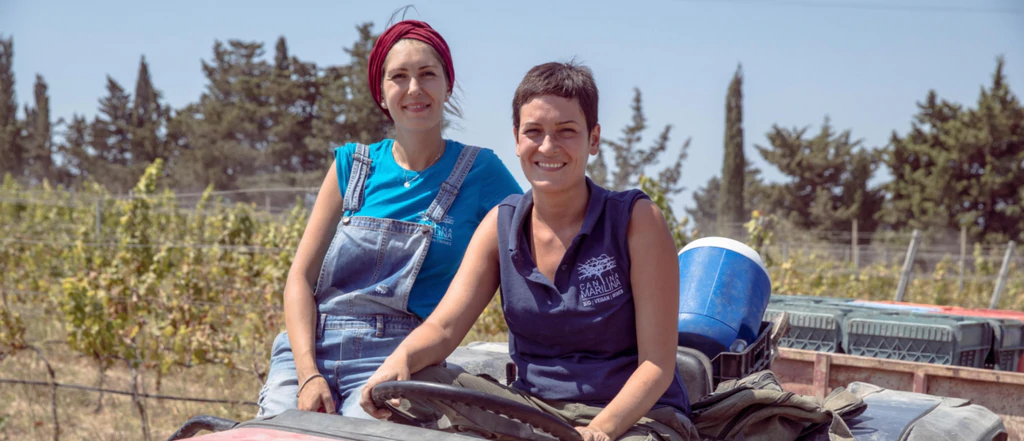 Sisters Federica (left) and Marilina Paternò, winemakers at Cantina Marilina in Sicily.
Half of the 60-hectare organic farm is dedicated to growing vines, while the other half is reserved for wild vegetation and mixed farming to ensure biodiversity. The sisters plant 80% indigenous grape varietals (such as the Nero d'Avola used to make this bottle) and keep their winemaking techniques as traditional and respectful to the land as possible.
"Fedelie" Rosato is just as pretty to look at as it is fun to drink. My roommate, Brenna, her sister, Taylor, and I shared the bottle while Taylor cooked mapo tofu, a slightly spicy Chinese dish filled with veggies, leeks, and fermented black beans, which turned out to be a nice pairing for this crisp and highly acidic pét-nat. In the glass, it's opaque magenta (be sure to swirl it around to integrate the sediment for optimal flavor!) with just a light layer of foam upon first pouring that quickly dissipates into tiny bubbles that tickle the tongue.
On the nose, I got notes of rosehip, underripe strawberry, and earth. It wasn't as intensely aromatic as I had been expecting; rather, it was reserved in a way that I appreciated. The first sip—which was very soon after followed by a second, third, and fourth—had an intensely dry, acidic, zippy feel.
Probably due to the color, I was ready for the wine to be more fruit-forward than it was. It did indeed have fruit notes, like raspberry and strawberry, but the medium-bodied wine also offered an herbaceous quality, along with notes of grapefruit pith and tart cranberry.
If you're looking for the perfect bottle to kick off the season, look no further than this rosé pét-nat, which fits the vibe perfectly. Plus, you have two awesome Italian female winemakers to thank for it. Here's to all of our serotonin levels skyrocketing in the coming days. Cheers!
Click Here to Purchase Cantina Marilina, Terre Siciliane 'Fedelie' Rosato Frizzante