Posted by Veronika Jelenik on November 10 2021 1:19pm
In wine columnist and former Bon Appetit wine editor Marissa A. Ross's book Wine. All the Time. (Plume, 2017), the California native identifies her introduction into wine: California Cabs. She had a love for, and dedication to, what has become a cult classic among New World wine lovers, paying little mind to other varietals and regions. I, much like Ross, was not always a sophisticated wine drinker. Despite being an East Coaster, I stuck to one wine and one wine only: Pinot Noir from the Pacific Northwest, Oregon in particular.
When I ventured more deeply into the wine world I scoffed at my former self for having such an immature palate. But as often happens in life, I came full circle to smack myself in the face for ever thinking that loving PNW Pinots was "unsophisticated." The climate of the Willamette Valley, Oregon's main winemaking region, is actually quite similar to Burgundy's, where Pinot Noir originated and where many will say the best Pinot Noir in the world comes from. Die-hard Francophiles will proclaim that Pinot Noir (or any wine for that matter) from America doesn't even come close that from France. But they're wrong!
I may be biased. I mean, I definitely am, because everyone is when it comes to wine. But my bias is founded. Perhaps you've heard of the Judgment of Paris. This doesn't have much to do with Pinot or even Oregon specifically, but in 1976, a group of wine experts conducted a blind taste test pitting California wine against French wine. The two winning wines were both from California, shocking the world and propelling the Golden State into the wine tasting bachelorette party destination it is today.
After this monumental event, people started taking U.S. wine more seriously. The winemaking industry really got started in Oregon in the '60s. While I love a Napa red, I actually prefer wines from Oregon, because the cool, relatively wet climate is conducive to high-acid, light-bodied wine, which is my favorite type of bevvy.
Rollin Soles founded Argyle Winery, the producer of this lovely 2019 Grower Series Pinot Noir, in 1987. He believed the climate and terroir of the Willamette Valley would be perfect for sparkling wines. Argyle, located in Dundee, Oregon, started as a sparkling wine producer, but the vineyard now makes Chardonnay, Pinot Noir, and Riesling, as well, under head winemaker Nate Klostermann. Today, Argyle is an Oregon icon that's deeply rooted in their local community.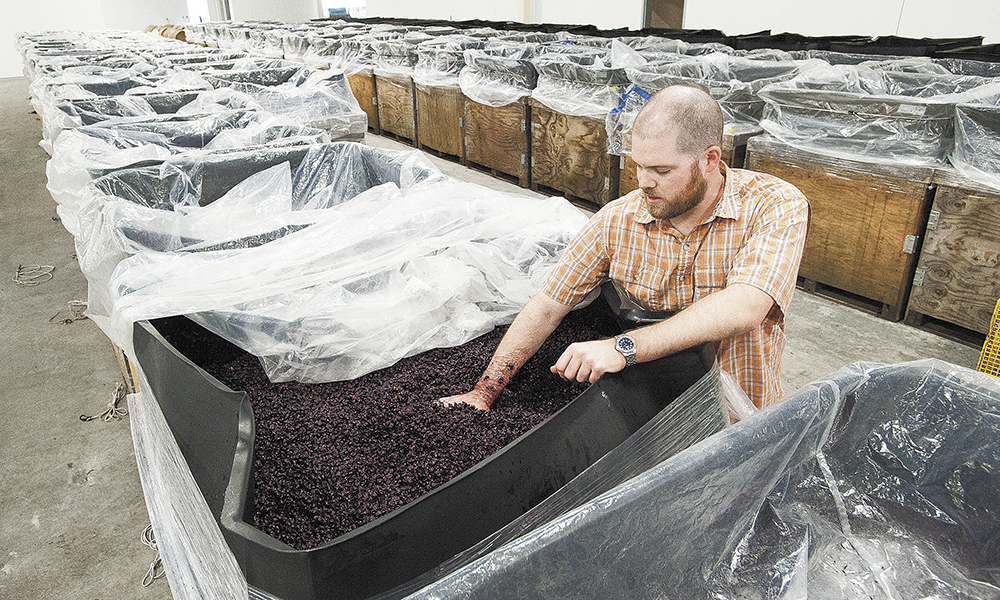 Nate Klostermann, head winemaker at Argyle, inspecting Pinot Noir grapes beginning cold soak. (Photo by Marcus Larson)
They boast a sustainability certification, and they aim to tell a story with every wine they produce. This wine's label reads: "Our winemaking is informed through conversation between sun and rain, warm days and cool nights." Very PNW if I do say so myself! Now I want to watch Portlandia.
Anyway—I usually drink the wines I write about in one sitting, or at least in one day, but for some reason I kept sipping on this wine over the course of several days, returning to it after (okay, before) dinners out or after (okay, during) long days of housekeeping. It's the epitome of an easy-drinking red. It's light-bodied—ruby red in the glass, but you can see your hand if you hold it under the bottom—and it's just bursting with fruit.
On the nose I got mostly cherry and a subtle hint of baking spice. Tart fruits like raspberries, just-ripe strawberries, and even a little bit of cranberry take over the palate on the first sip. It progresses into earthy umami notes on the finish, with just a kiss of oakiness lingering on the palate. The flavors are straightforward and elegant, complemented by a smooth texture that leaves a little tingle on the tongue.
I drank this wine while I did my makeup; while I watched Desperate Housewives with my chihuahua, Beanie; and while I cooked myself pasta for dinner for the fourth day in a row. It's simply a great wine that's fun to sip on, with or without food. It would make a perfect birthday gift or addition to Thanksgiving dinner. For only around $30, this Willamette Valley Pinot is a steal and an absolute gem.