Posted by Connor Kennedy on September 11 2022 7:53pm
Sicily was the first wine region I delved into in a deeper sort of way. At the time, I was working somewhere with a distinguished yet traditional selection. I couldn't help but feel that Sicilian wines were undervalued compared to better known Italian wine regions like Piemonte and Tuscany. In many ways this is still true - bottles from this Mediterranean island scarcely peg the same prices as premier bottles from other Italian regions, despite the best examples being just as complex and delicious. From mineral-driven Etna wines, round and cherry-esque Cerasuolo di Vittorias, to the various salty and crisp indigenous white varietals, there's a bursting array of distinctly expressive wines that I could ramble about endlessly. But I'll save everyone the trouble and focus on just one enchanting wine. It's coming from Alessandro Viola, a small producer in the northwestern part of Sicily just south of Palermo. The 2019 Le Mie Origini is made of Viola's favorite grape, Cataratto, a local varietal that confers on the wine an intense elegance that demands it be aged. I might have to squirrel away a few bottles of it myself.
Alessandro Viola has a deep seated connection to the local Sicialian wine culture, having helped his father harvest grapes since he was a boy. Though he's traveled the world pursuing oenological knowledge and know-how, his Sicilian roots beckoned him home. He carries a profound love for the island's local grapes, like Cattarato, Grillo, Nero d'Avola, and Nerello Mascalese, which shows through the precision of his winemaking. After working for a larger wine producer on Mt. Etna, Viola decided to take it small and to make wine like his father used to make. He now has over 7 hectares of vineyards under his purview, all taken care of by hand. He's committed to organic and biodynamic practices, with little to no intervention in the winery besides diligent attention and patience. My hunch is there's really no other way these uniquely Sicilian wines could come to be.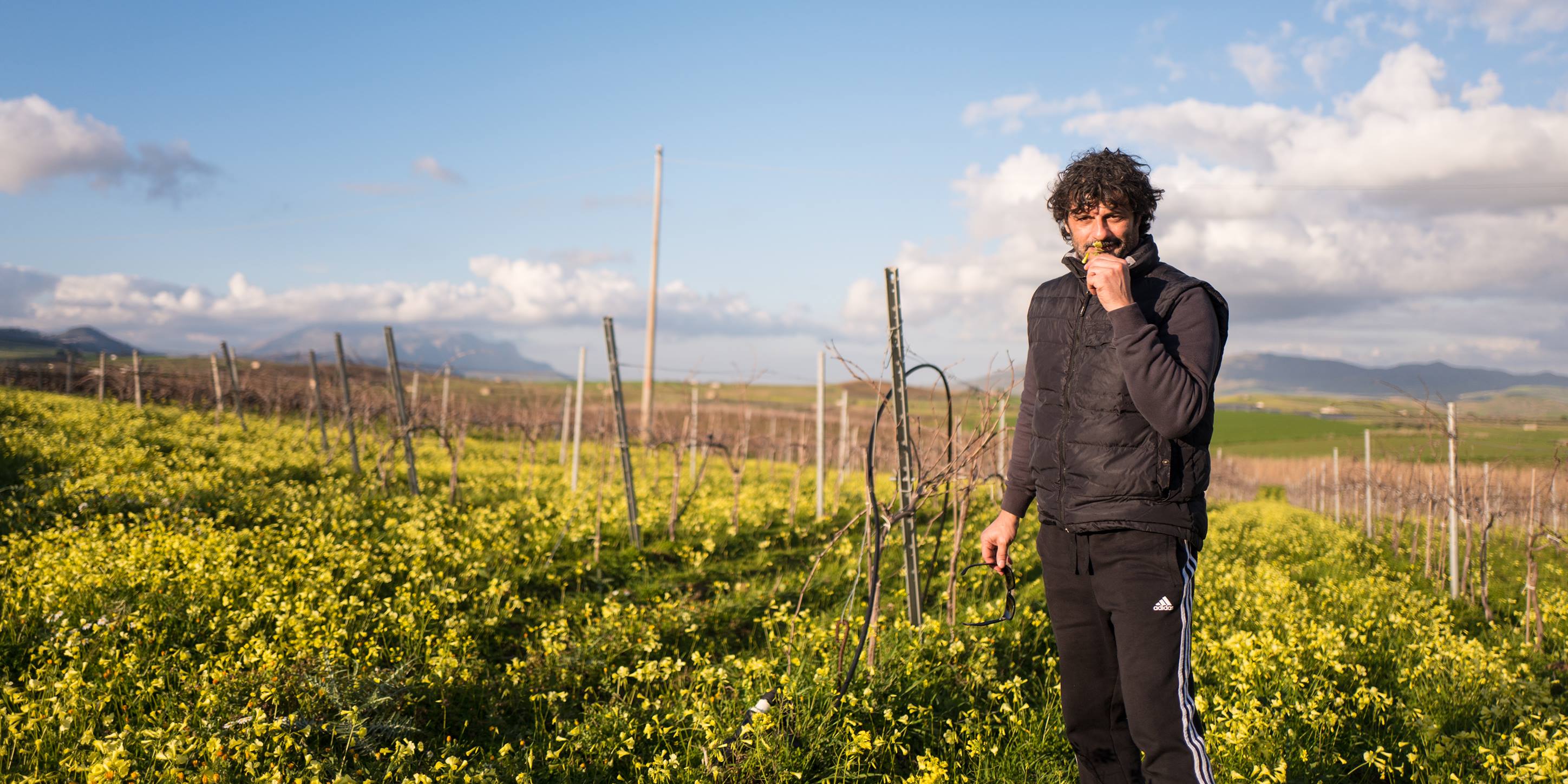 Alessandro Viola smelling some grapes. Source: lofiwines.com
The 2019 Le Mie Origini is a serious amber wine, and a beautiful example of a skin-contact Cataratto. I received good advice to let it open up for an hour before drinking, and it paid off. The nose is set with dried herbs and tropical fruit notes, clearly indicative of Cataratto. Subtle notes of pear came through as well. The palate is bright, and largely agrees with the nose - pineapple revealed itself, with the wine drying out into a savory finish. The structure was still a little tight, my first hint that this bottle would only get better with time. The acidity was superbly integrated, also suggesting the wine could sit for years. The wine is rich and textured in the sort of way only an amber wine could be. I'd imagine it'd age more like a red, with its tannins unfolding over time, mediated by the acidity. This wine is thinker.
Sometimes people ask me how I know if a wine ought to be cellared. Sometimes it's obvious - if someone hands you a young vintage of a nicer Burgundy, I would put that one away for a few years. But a wine like Viola's is unique; people haven't been drinking skin-contact Catarratto forever, and there are likely very, very few bottles of aged Cataratto laying around outside of Sicily. My advice is simple: try the wine first (if you get the chance, of course). While indulging, ask yourself some questions: Does this wine seem well-crafted and balanced? If it's tannic, does it strike you as tight? Does it seem like there's more to the wine than it appears? That there is some ineffable quality you can only capture a glimpse of?
We've got to trust our own judgment on these matters. There's no one telling us what to do. But time and wine work in tandem, whether it's the cycle of the seasons in the vineyard or years of a bottle sitting lonesome in a drafty basement. In the end, there's only one true way to know how a wine will age: patience.