Posted by Connor Kennedy on July 09 2022 5:09pm
Amber wine, or "orange" wine, is a fickle thing. To some wine drinkers, it has become their go-to style as they seek textural richness and novel aromatics and flavor profiles. To others, it's a style of wine that provokes apprehension - they worry that the wine might be too unorthodox, or "funky", for their liking. Despite this, its growth in popularity, like natural wine more broadly, has been driven by those of us seeking the unorthodox. Because of this,, I've strayed away from using the term "funky" to describe wine; it just means too many things to too many people to mean any distinct thing at all. To some, it means a kombucha-esque volatile acidity far in excess of the average bottle they drink. To others, it describes aromas or flavors reminiscent of a barn, originating from residual compounds in the wine known as brettanomyces. To others still, a wine can be funky merely from its unique color and cloudiness, even if the wine is balanced and has a so-called "clean" flavor profile. The more I've gotten into wine, the more important it has become to parse through these differences. The bottle I had this week, Camerlengo's "Accamilla", leans towards the more balanced category, meaning it's the sort of amber wine I'm most likely to share with my Grandmother.
Camerlengo was created by Antonio Cascarano, who inherited lands from his grandfather outside the town of Rapolla in the southern Italian region of Basilicata. Camerlengo is named after the Cardinal Camerlengo, a high ranking position in the Holy See which defended the local lands in the 13th century on behalf of the Church. Cascarano's vineyards lay on the slopes of Mount Vulture, an extinct volcano that offers the earth fertile volcanic soils rich in silicon and calcium well suited for grape vines. Aglianico, a very tannic red grape, is the dominant grape in Vulture lands, but limited amounts of Malvasia and Mosc ahh ato are grown in the region as well. The wine "Accamilla" is produced wholly from the local variety of Malvasia, seeing an 18-day maceration period in chestnut barrels which provides the wine's deep amber color
.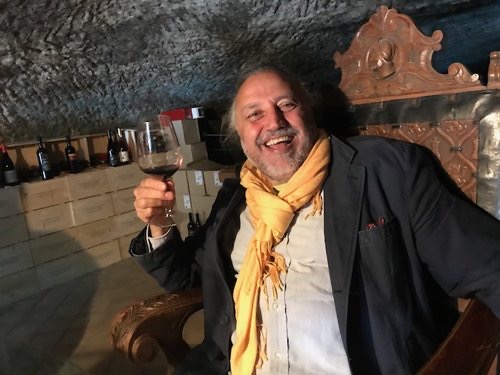 Antonio Cascarano having a good time.
Malvasia grapes, of which there are many varieties, are often quite aromatic, whether being made as a white wine or an amber wine. This Malvasia di Rapolla is no exception - it has an array of tropical fruit notes, coupled with signs of white flower and honeysuckle. The palate was very dry, with a persistent and integrated tannic structure. This is defined by a dried stone fruit character, with a bitter herbaceous quality marking the finish. It's a lush wine, to be sure, with vibrant acidity hitting on the mid-palate in a balsamic-esque way. This is that savory, food-friendly amber wine you want at a dinner table.
For some, this wine may be considered "funky", while I consider it quite "clean" (though that term can be just as vague and nondescript). Funk, in a way, is just another way to describe the new or the unknown. All this goes to show is that peoples' palates are relative, and that there is a growing curiosity and open-mindedness among wine drinkers. I might share it with my Grandma, and there's no guarantee she'd like it - it sure as hell isn't her favored Cabernet Sauvignon or Côtes du Rhônes - but this Accamilla at least has flavors that she's familiar with. It's the texture and color that would be a novelty for her. Maybe she'd even use the word funky?