Posted by Veronika Jelenik on March 03 2022 1:29pm
There were certain aspects of my childhood that were distinctly Hungarian. I never learned to speak the language, nor have I ever been to the country, but growing up, my grandmother's cooking and scattered use of Hungarian phrases made me feel more closely connected to the country's culture than to any of the others I've descended from.
I have only drunk a handful of Hungarian wines—my favorite being Egri Bikavér, or Bull's Blood, a traditional red blend from the northern Hungarian appellation of Eger—so I chose to drink and closely examine a white Hungarian wine from a much smaller appellation, Somló. In fact, it's the smallest DOC in the country.
The varietal, Juhfark (translating to "sheep's tail"), is native to the region, which is situated among volcanic soils from an extinct volcano in the northwest corner of Hungary. Unsurprisingly, the ashy terroir contributes to the flavors and aromas of this wine, which has a distinct minerality and smoky essence.
This Juhfark was medium bodied with a nose of green apple, pear, and quince. It also offered a slightly nutty scent, like crushed walnuts, similar to the ones we used to stuff into my grandma's palascintas (Hungarian crepes) after mixing them with cream and sugar.
On the first sip, the palate seemed somewhat off dry, but only on the tip of my tongue. It's actually completely dry with high acid and a salty, minerally finish. In my mouth, it felt round and lush, almost Sherry-like. It had notes of lemon shortbread and Golden Delicious apples, plus a slightly smoky yet tropical flavor, like grilled peaches or mangos with chili powder.
This was not a hard bottle to crush; it boasts a super easy-drinking quality that was quaffable yet complex. It was somewhat similar in body and flavor to some Sicilian white wines, so if you're a lover of those Southern Italian whites, you may find you enjoy wines from this region as well.
Though I didn't pair the wine with food, nor do anything remarkable while drinking it, I tried to imagine how else I might enjoy it. It had well-balanced savory and fruity qualities and was acidic enough to cut through the richness of many Hungarian dishes my grandmother makes, like beef-stuffed cabbage or chicken paprikash with spaetzle. Paprika is a widely used ingredient in many Hungarian dishes, and this wine almost mimics the smoky spiciness of the seasoning.
And though I've only ever eaten palascintas for breakfast with fruit, nuts, and a pile of whipped cream, I could also see myself enjoying the Eastern European thin pancakes as dessert alongside this wine. It's simply fresh and crowd-pleasing with a ton of versatility.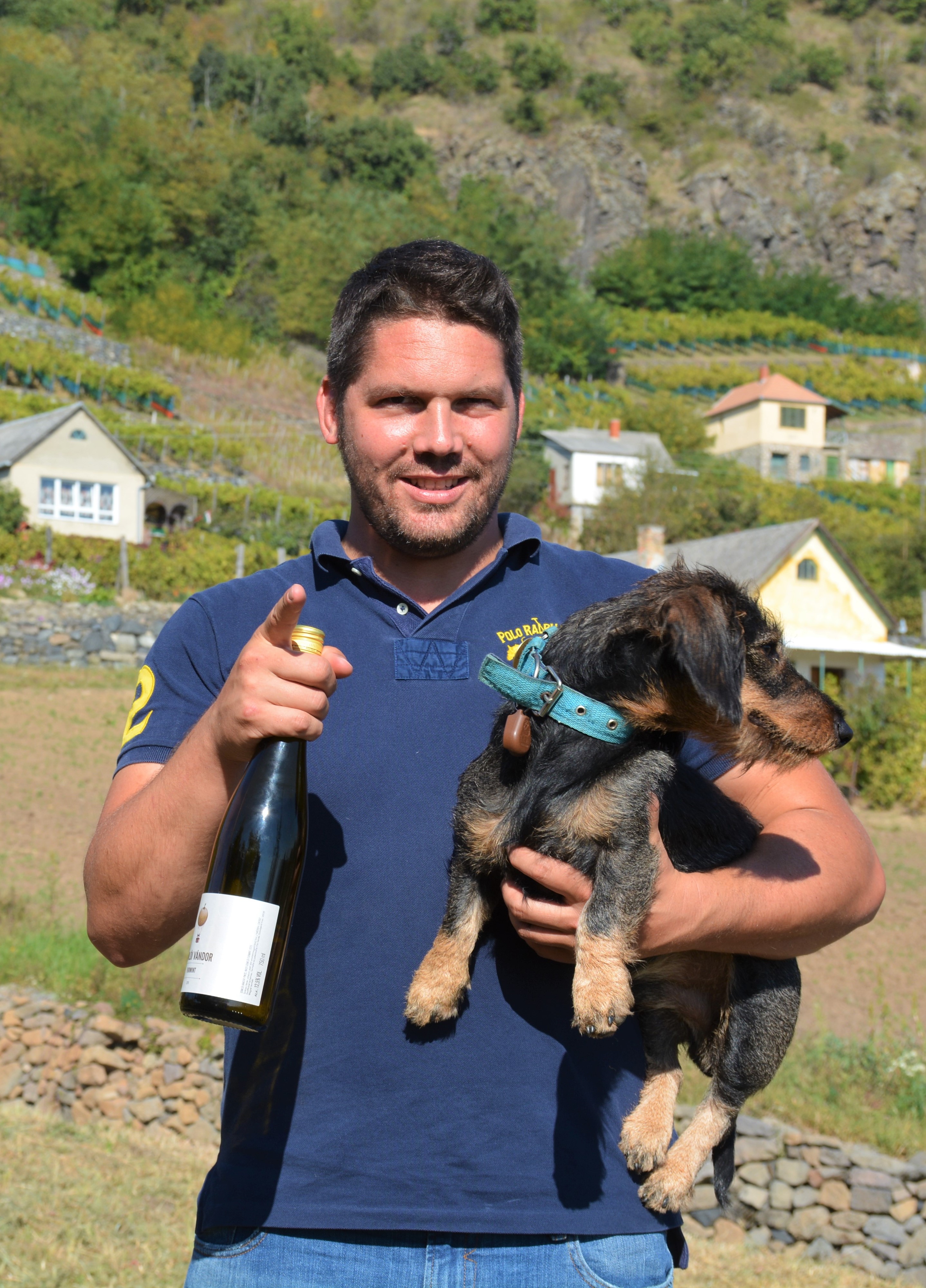 Tamás Kis, owner and winemaker at Somlói Vándor in Somló-hegy, Hungary, with his daschund, Füge.
The winemaker, Tamás Kis, used to be a winemaker at a famous winery in Eger. He had a small vineyard in Somló for fun, but in 2014, he decided to leave Eger and start a winery in this much smaller appellation. Somló Vándor was born. Now, Kis produces about 700 cases of wine per year with the help of his daschund, Füge.
Vándor is Hungarian for "wanderer," reflecting what Kis believes was an act of fate when he decided to wander into Somló Hill and buy a house with a built-in wine cellar. The result is a small production of unique wines that reflect the idiosyncrasies of the region.