Posted by Veronika Jelenik on March 09 2022 1:12pm
One of the things I love most about wine is the culmination of cultures and traditions that exists inside each bottle. Grapes indigenous to France make great Pinot Noir in Oregon or Malbec in Argentina; German grape varietals become skin-contact wines in Upstate New York; producers in Italy utilize Georgian traditions, while those in France use New World tactics to lighten up traditionally heavy, tannic wines.
In a similar vein, winemaker Caleb Leisure (who gets bonus points for a cool last name) takes French grape varietals—to which he's privy after doing internships in Jura and Languedoc before starting a winery of his own—and creates 100% natural wines in California's Sonoma County. Better yet, he utilizes the ancient winemaking method of fermenting grapes in authentic qvevri, Georgian terracotta vessels, which are largely regarded as the OG winemaking equipment. In fact, he is the only producer in the U.S. to make all his wines in legit Georgian qvevri.
Leisure, the sole operator of Caleb Leisure Wines, managed to ship 10 authentic qvevri to California while on a trip to Georgia in 2016, where he became further fascinated with their wine production techniques. At the time, he was the protégé of esteemed natural winemaker Tony Coturri, so he buried the clay vessels in a tiny annex of Coturri's winery.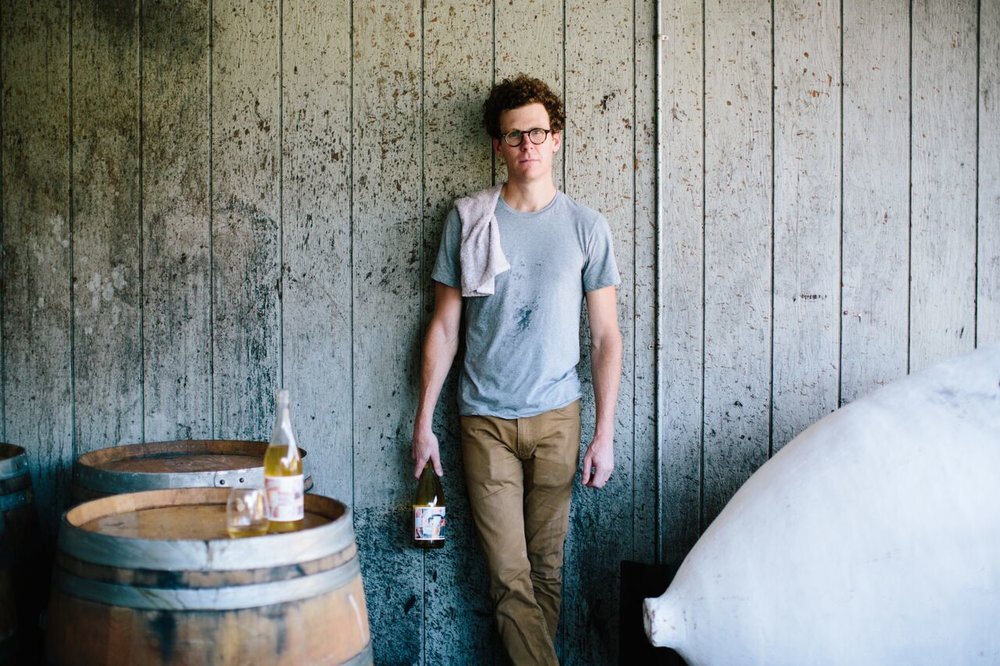 Caleb Leisure, owner and winemaker of Caleb Leisure Wines in Sonoma County, California.
Today, farming about a third of his own grapes organically and biodynamically and purchasing the rest from growers with the same principles, Leisure (with the help of friends and family) draws from ancient methods to produce small batches of wine with nothing added (including sulfur) or taken away (no fining or filtering the juice).
Obelus, the red blend I tried, enticed me mainly because it confused me. I saw it was from the California Sierra Foothills, which made me think: New World, bright, fresh, juicy. Then, I saw it was made from Grenache, Cinsault, and Mourvèdre, which made me think: Southern Rhone, big, heavy, bold. When I read that it was fermented in qvevri, my thoughts took a sharp left turn to: Eastern Europe, aromatic, weird, funky. I had no idea what to expect when I brought home this bottle, nor if I would enjoy what was inside.
This wine was both all and none of those things. The first quality I noticed was the color. I expected it to be a dark, opaque red, but instead, it was light ruby with tawny undertones, almost translucent if the sediment hadn't made it cloudy. It sort of looked like fruit punch.
On the nose, aromas of cherries, fruit leather, and ripe raspberries gave way to a somewhat sour, yeasty, and mildly funky scent, reminiscent of kombucha, but not overwhelmingly so. The palate was light-bodied and full of juicy acid with low tannins, leaving a little tickle on the tongue, like an alcoholic strawberry lemonade.
The finish offered a bit of salinity and minerality, which were welcome savory notes given the fruitiness of the juice, which reminded me of sangria. I didn't pair it with food, as I wasn't sure what the vibe was, but that ended up being the right choice for this wine. If I did, it would be with aperitivo or dessert, not a full meal. Think sharp cheeses or mini fruit tarts.
Enigmatic yet quaffable, this is a great wine for late spring/early summer, especially if you're a light-red-lover like me. I would chill it down and drink it at a park hang, rooftop soiree, or picnic. At 12% ABV, it will get you just the right level of day drunk.
Here's to great wine, warmer days, and leisure. Cheers!