Posted by Veronika Jelenik on November 23 2021 1:56pm
It's been a Sad Girl Autumn™ for me. Taylor Swift music videos are playing in the background as I write this. Luckily, I have this great bottle of northern Italian red wine to enhance my self-indulgent pity party.
I used to be obsessed with northern Italian reds, like Montepulciano d'Abruzzo and Chianti. Before that, I actually disliked red wine; I only drank Pinot Grigio, and it was usually out of a bag. That was until I studied abroad in Florence my junior year of college, and bottles of decent quality Chianti cost all of five euro at the grocery store. I could pick up toilet paper and pasta and a bottle of Chianti and it cost me under 10 euro. God, I miss Europe.
Anyway, for that reason, northern Italian reds will always hold a special place in my heart, which is why I chose this bottle of Schioppettino from Ronco Severo, a producer in the northeast Italian province of Udine, close to the Slovenian border, for the week of Thanksgiving. It's not exactly a Tuscan red, but it has similar qualities—complexity, a medium body, and an easy-drinking nature that makes it a great table wine. It's perfect for holiday sharing with the family and, odds are, no one will know the grape varietal, which will make you look cool and knowledgeable.
In the glass, it's opaque and ruby red, almost scarlet. The biggest notes I get on the nose are black pepper, woodiness, and red fruit. This definitely isn't a juicy fruit bomb (like the Beaujolais Nouveau that just dropped!!!!); instead, it's giving a rustic, autumnal, holiday-season vibe that I love.
On the palate it's medium-bodied with slightly grippy tannins. While bold, it's not overly acidic. The most prominent notes are wild raspberry, minerals, and baking spices, like cardamon and clove. Having been aged in Slavonian oak, it has a long, woody, dusty, vanilla finish.
This could definitely qualify as a "dad" wine (think: bold, tannic Cab Sauvs and the like), but it's also a little off the beaten path, which I love. Not just an atypical grape, but a low-intervention farming style, too.
Stefano Novello is the winemaker, who hand-harvests only the healthiest and ripest grapes. For this wine, grapes are picked late in the harvest. After a long maceration, the wine ages in oak for 30 months before being bottled without filtration or clarification on a waning moon between August and September.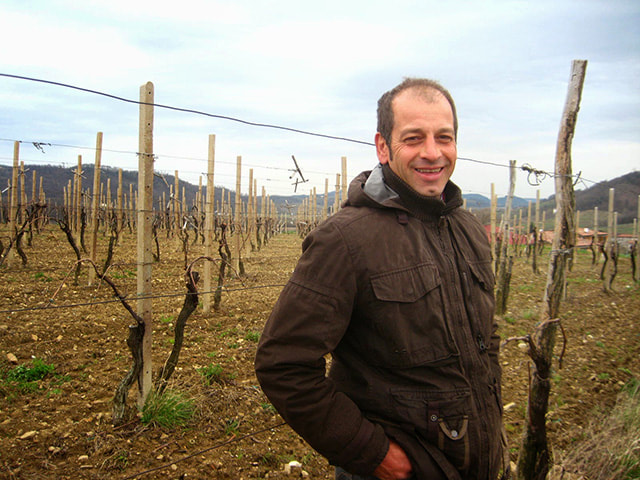 Stefano Novello, the winemaker at Ronco Severo, located in Prepotto, Udine, Italy.
Novello considers the terroir to be the backbone of his wines. You can definitely taste a pronounced minerality on this one. He farms organically and follows biodynamic principals, making every wine a labor of love.
This is a great wine for a traditional Thanksgiving dinner of poultry, potatoes, and veg, but in my personal opinion, it would best accompany a big bowl of spaghetti. It can certainly hold its own against many dishes, though, and is just as fabulous on its own.
As they say in Italy, anni, amori, e bicchieri di vino non se contano mai. (Years, lovers, and glasses of wine are never counted). Cheers, and happy Thanksgiving!